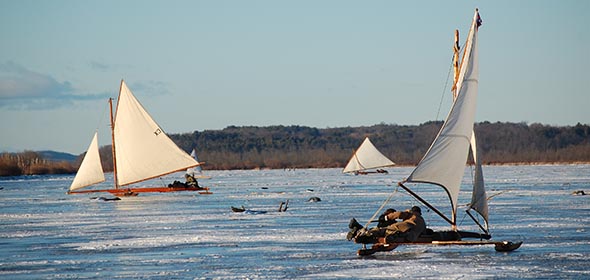 The Unification Theological Seminary in Barrytown was the setting last month for a special sail on South Tivoli Bay.
For the seventh year, the seminary invited the Hudson River Ice Yacht Club and other iceboat enthusiasts to take advantage of the natural beauty of the Tivoli Bay in winter.
In addition to ice boating, the day offered a chance to ice skate, play hockey, or just walk on the ice and delight in the Hudson River, Catskill Mountains, and winter wildlife.
On Jan. 27, it was sunny, with a slight breeze blowing, and temperatures in the 20's, all marking a good start to the ice boating season.
"With a strong wind blowing, some of the bigger boats have gone over 70 mph on the bay," said long-time iceboater John Sperr. On this day, they were cruising much slower on a light breeze.
Coming from all sectors of the Hudson River Valley community, the iceboat club members are a close community of outdoor enthusiasts, willing to brave the frigid weather and sail to their hearts content.
They included Bob, an architect for Dutchess County; Reid, a baker, educator and renaissance man; John, a computer expert and keeper of vineyards; and Chris, who recently returned from an expedition in Antarctic.
They gladly gave rides to the many adults and kids who flocked to the seminary campus when word got out that the iceboats were sailing.
The ice club dates back to around 1885, when wealthy families, such as the Astors and Roosevelts, entertained themselves in the winter months with iceboat sailing, races and parties. Today, some of the members sail those very same historic boats, such as the "Vixon" and "Kriss," both once owned by the Roosevelt family.
The smaller, one-man boats are called DNs. They were named after the Detroit News, which sponsored a contest in the 1930s to see who could come up with the best design for a single-man iceboat.
Facebook Comments