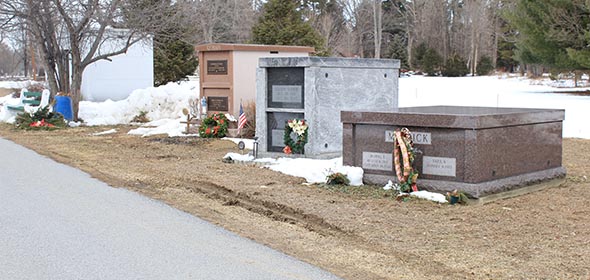 In an effort to beautify the Rhinebeck Town Cemetery, town officials are moving forward with a plan that will limit both the number and size of future mausoleums and will scatter them through a developing section of the cemetery.
Suzanne Kelly, chair of the cemetery committee, presented a revised plan to the board at its Feb. 11 meeting. The plan calls for no more than 15 mausoleums in the Grasmere section on Mill Road, which is near the old section of the cemetery just off Route 9 south of the village. Also, the plan places a two-body limit on the size of future mausoleums built in Grasmere.
Currently, Kelly said, four mausoleums are already in the section – one of them is a large 12-body structure. Four more plots have already been sold, and bases for two-body mausoleums are currently being built, leaving seven open slots.
"Limiting it to only two seems very small to me," said board member Gina Fox, who suggested perhaps making the maximum size four. Board member Joseph Gelb agreed.
Board member Elizabeth Spinzia said she understands and respects the personal preference of people who do not want to be buried in the ground. "But," she added, "I'm also very aware of how it looks, of how these structures, if not planned for, really break up the serenity or the look of the place. I think the committee has a nice vision for (the cemetery)."
The plan covers the currently surveyed part of the Grasmere section, Kelly told the board. There is an open, not-yet-surveyed area, which could hold more mausoleums in the future.
When someone purchases a mausoleum plot, under the plan, they will meet with the town board liaison and cemetery committee chair to discuss where the monument will be erected.
"They can't just pick where they want to go, as opposed to a plot for an in-ground burial," Kelly said. A memorial tree program will encourage each mausoleum purchaser to also buy a tree.
"The idea is to create tree groves so that the mausoleums would be brought down to scale and so that the mausoleums are buffered from the road," Kelly added.
She said the original plan a few years ago called for mausoleums in one small area only, but she said there was backlash from adjoining property owners. Now, the plan calls for scattering them against the tree line, but not clustered, to avoid the look of "a little city." She compared the plan to the way the mausoleums were constructed in the old portion of the cemetery: "dwarfed against the tree line in a way that made them look good."
The board passed a resolution to move forward with the plan.
"I think it's nice, it's lovely," Spinzia said, referring to the reshaping of the cemetery. "There's a cohesive plan — a cemetery can be a beautiful, beautiful place."
Facebook Comments