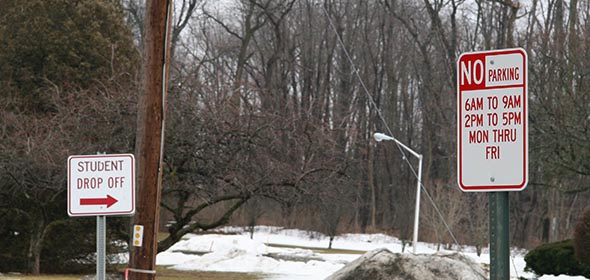 Parents who drop off or pick up students at Red Hook's Mill Road Elementary School now face stepped-up law enforcement of the no-parking ordinance on Rockefeller Lane near the K-2 pick-up area.
Since Jan. 10, the Dutchess County Sheriff's office has sent a deputy to patrol the area about three times a week and, according to Sergeant Jonathan Hughes, "enforcement is still in progress and… at least three tickets and several warnings have been issued there."
Parking has been an issue at the elementary school since at least 2007 when primary principal Linda Caswell sent a letter to the Town of Red Hook requesting a no-parking ordinance along Rockefeller Lane. According to the minutes of the Jan. 8, 2008 public hearing for the new law, Mark Phelan, who was director of facilities and operations for the school district at the time, expressed the school's concern about cars parked on Rockefeller Lane during bus loading time, "blocking sight distance, which could possibly cause an accident."
The no-parking ordinance was voted in by the town board on Jan. 15, 2008, and signs were installed the following September, according to the Red Hook Town Clerk's office.
The signs show that parking is prohibited on Rockefeller Lane next to the school between 6am and 9am and between 2pm and 5pm, Monday through Friday. But despite the signs, parents have continued to use the area for overflow parking.
In what could be the strongest enforcement of the five-year old ordinance, the Sheriff's department informed the school on Jan. 8 that tickets would be issued to violators in the future in response to a complaint by a community member, according to Superintendent Paul Finch.
In an email to all K-2 parents on Jan. 10, Finch warned parents of the enforcement action and explained. "There are simply not enough parking spaces on the K-2 side to accommodate the ever-increasing numbers of parents who pick up students at the end of the day."
He also sent a letter to Town Supervisor Sue Crane last week, asking the town board to reconsider the signage or adjust it to allow parents to wait for their kids at a safe distance.
According to Finch's email to parents, the school district hired a specialist four years ago to try to solve the parking problem, but the proposed solutions were cost-prohibitive. Local law enforcement helped explore other options, but these discussions also yielded no good alternatives, he said.
"We continue to discuss possibilities," Finch told The Observer. "These include expanding our eastern K-2 lot, adding some curbing (to make the entrance and exits safer), and assigning spaces to staff."
Finch added that he was not criticizing the school or the town board for their actions on the parking problem.
"I am sure that the principal and the town acted in good faith to resolve a potential safety issue [in 2008], by placing no-parking signage," Finch said. "We are caught between a rock and a hard place on this issue."
Facebook Comments