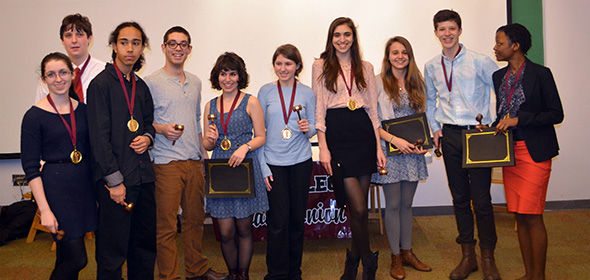 It was all talk — and prize-winning words — when students from Red Hook and Rhinebeck participated in Bard College's second annual Middle and High School Debate Tournament on March 1.
The event was co-sponsored by the Bard College Debate Union and the Bard Center for Civic Engagement. This year, there were 80 students from eight schools, with 21 teams competing in middle and high school categories. Red Hook High School, Linden Avenue Middle School, Rhinebeck High School and Bulkeley Middle School all fielded teams to debate two topics: "The Personal Possession of Handguns Should Be Outlawed in the United States" and "The Federal Government Should Require Two Years of Civil or National Service for All U.S. Citizens between the Ages of 18 and 24." The all-day event also included a luncheon and an awards ceremony, followed by a public debate by the Bard Debate Union.
The day began at 8am with opening remarks from Bard's president Leon Botstein. Addressing the students, many of whom were still trying to pack in a few more minutes of research and preparation before the first round of competition, Botstein said, "The point of debate is ultimately to learn more about your own beliefs and to realize that people who disagree with you are not monsters. The goal is not to win, but to persuade, without resorting to fear, other people to join you in your beliefs."
He also congratulated students for already being winners for their hard work in preparing for the debates and for being exceptions to what he called society's increasing level of disengagement.
"We don't really like debate in America. Our presidential candidates, for example, don't debate. They take part in something that seems more similar to competitive ice dancing," he said. "Do we ever see a debate where somebody is persuaded to take a position that they did not have at the start?"
While Botstein's message likely registered with students on some level, it was juxtaposed with the glitter of the gold medals that sat in wait on the judges' table. After the initial pairings were announced and students broke into their three-person groups for frantic last-minute strategizing, it was clear that winning was very much still on their minds.
The tournament consisted of two rounds of World-Schools Style Debate. This relatively new format features two three-person teams delivering four speeches each, with opportunities presented to question and challenge opposing speakers on the fly. In order to encourage preparedness, the topics of the rounds were given in advance. Bard College debate team members and debate coaches from participating schools acted as judges.
Bard's Vice President for International Affairs and Civic Engagement Jonathan Becker was on hand to watch the event — and to discreetly cheer on his son. As a former member of student debate programs himself, Becker told The Observer, "We feel that debate is an extremely educational activity that fosters skills students will carry with them throughout their academic career and beyond. We are thrilled that the principals and faculty from the participating schools are fostering these programs and we are indebted to our own Bard students who volunteer tirelessly in local schools to promote debate."
The 80-student field of competition was double the number of entries in the inaugural event last year, and the tournament is now seen as the culmination of Bard's debate outreach programs. Currently in its third year, the program involves Bard College Debate Union members volunteering at local high schools and middle schools to advise and coach student debate clubs.
Bard College Junior Lee Gensler, who works with students at Linden Avenue Middle School, told The Observer, "I am tremendously proud of my students this year. Not only for how well they have done, but also for their enthusiasm, eagerness to learn and their maturity. It shows that even young students are capable of thinking about and actively engaging with serious topics if they are given the opportunity."
In the High School Team awards, the Red Hook team of Sam Gilberg, Joe Bryant and Templeton Kay took second place. The Rhinebeck team of Carolyn Goldstone, Isabella Romano and Craig Pavord won third place. Kay also took first place in the High School Speaker awards, Goldstone took second, and Caleb Wootan of Red Hook placed sixth.
The Middle School Team Awards were dominated by Red Hook. First-place winners were Emily Shein and Natalie Hayes; second place went to Jacob Ostfeld, Hadley O'Connor and Ally McCrudden; third place was won by Alex Gonella, Patrick O'Shea and Doug Appenzeller; and Tom Bloxham and Joseph Shaw won fifth place. In the Middle School Speaker awards, Ostfeld won first place, Shein won second and McCrudden took third. In addition, Hayes took fifth place and Bloxham took seventh.
Plans are already in the works for next year's debate. Organizers are hoping to expand the event beyond the current time constraints imposed by local students needing to return to their buildings by the end of the normal school day. In addition to outreach programs and its own competitive debate calendar, the Bard College Debate Union hosts public debates that are open to all members of the local community. More details can be found at their website debate.bard.edu.
Facebook Comments