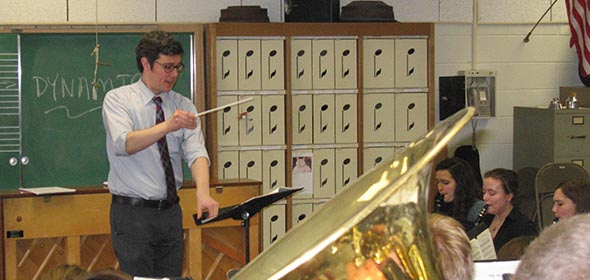 If you had experienced "Godzilla Eats Las Vegas," a multimedia concert featuring crash boxes, showgirls, and Elvis, you might have wanted to meet the new music teacher who chose such an intriguing production for the Red Hook High School Band to perform earlier this year.
"It was one of those moments that you live for as a musician where everything comes together, and the energy was just awesome," recalled Zeller, a passionate and upbeat individual who, if he wasn't wearing a crisp shirt and tie, could easily pass for one of the teens he keeps in tune.
This is Zeller's first year at the high school, having picked up the baton from the retiring Anne Oja and Alan Van Ness. "They both did a fantastic job with the program," he said. "Most schools that have only one band are not anywhere near this good. Part of my interview was being a guest conductor to see how you do in front of a group. I walked away just totally overwhelmed. I thought, 'Wow, the things that I can do with a group like this.'"
David Liu is a 15-year-old freshman who is looking forward to four harmonious years. "I had no band experience prior to Jazz Band," he said. "However, Mr. Zeller gave me the chance and has been very helpful and extremely encouraging to me. He is a great conductor and constantly makes suggestions to try and help you get better."
Zeller said he appreciates having the same students for four years. "I have 80 students in band, plus another 30 or so in my Music Appreciation classes," he said. "You get to know the kids better because you have time to build up more trust; they actually believe your suggestions."
Zeller did not originally set out to become a teacher. After graduating from Oberlin Conservatory of Music, he discovered that his studies of jazz and composition were not instrumental in finding employment. He later got a Masters in Music Education from the Eastman School of Music and taught first at Middletown High School in Orange County. He now lives in Tivoli, plays trombone and piano and is a member of The Big Shoe, a funk band that plays occasionally throughout the Hudson Valley area.
Zeller, who is originally from Buffalo, N.Y., had actually considered taking a position at a school in Singapore before he saw the job posting in Red Hook. He had once performed at Hardscrabble Day here, so the area was familiar. "I did some research on the school and the district and was honestly just really impressed," he said. "On the interview committee, there were parents and students and administration, and I was impressed with how engaged everybody was with the process of filling this position. I walked away thinking, 'I really want this job now.'"
He added, "It's a great area here. It's really an arts-rich area, and there are opportunities that don't always exist in small towns. I feel privileged, honestly, to be part of what I see is a really strong tradition of a really strong band in Red Hook. I think it's really special to be able to be part of that."
Facebook Comments