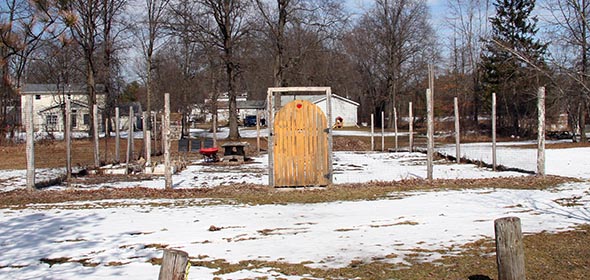 After a successful inauguration last year, the Tivoli Community garden is being readied for an even busier planting season this spring.
The Board of Trustees created the garden last year after a proposal from the Village Green Committee and its chair, Trustee Joel Griffith. The garden is located on a small section of land in Tivoli Memorial Park, where a handmade wooden gate and fence protect its products from wild life and overzealous local chefs.
At the Feb. 20 Board of Trustees meeting, Griffith predicted that there will be increased interest in the garden this year. "I am anticipating, this year, that we are going to have a lot more prospective gardeners than we have plots. That is wonderful, but also problematic," he said.
There are only 19 plots available in the garden, each one measuring 8 by 12 feet, so the Village Green Committee will hold a lottery to determine how to parcel them out if demand exceeds the garden's capacity. Each space costs $30, which will be used to maintain the garden fence and buy any necessary equipment.
"While we appreciate everyone who helped us break ground last year, it would not be fair to new residents or people just getting interested in gardening if they had to wait for a current gardener to die before getting a plot," Griffith joked.
Gardeners must be a resident of Tivoli and should contact Griffith by April 1 in order to register for the lottery: He can be reached at jrobertgriffith@yahoo.com or 845-757-4214.
Facebook Comments