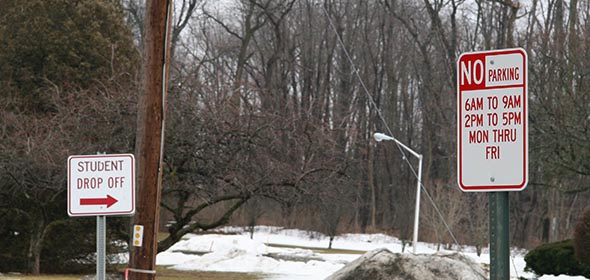 Despite a request from the school district, the town of Red Hook will not change the no-parking signs outside Mill Road Elementary School.
Since Jan. 10, the Dutchess County Sheriff's office has been enforcing the no-parking ordinance on Rockefeller Lane outside the school. As of March 18, three tickets and several verbal warnings have been issued to cars illegally parked during drop-off or pick-up time.
In the weeks following notification of the enforcement, the school warned parents and contacted the town to ask that the signs be reconsidered. The town board tasked Highway Superintendent Theresa Burke with responding to the district's request.
Burke read her letter of response at the town board meeting March 12. "The safety issue remains the priority of the highway department," she said. "We do not see the value in encouraging parents and caregivers to use this road as a parking lot."
The letter cited congestion on Rockefeller Lane during peak drop-off and pick-up times as the main concern. "The road narrows in front of the school and, with cars parking on both sides, it becomes a one-lane street which vehicles and school buses have difficulty negotiating," Burke said.
Burke also said that traffic had increased on Rockefeller Lane in the time since the no-parking ordinance was put in place.
"We are confident that the school district will find a way to accommodate the parents who must pick up their children from school, while ensuring the safety of town residents," Burke concluded.
Requests for comment from the schools superintendent's office were not returned by press time.
Facebook Comments