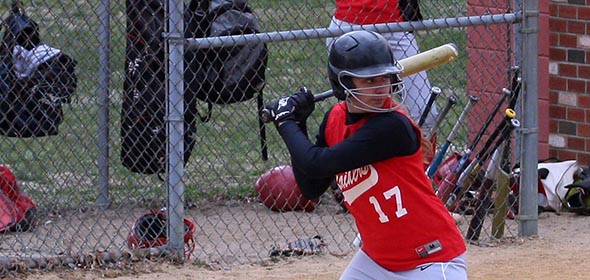 Red Hook softball, led by head coach Tom Gilbert, put together a nice season in 2012, assembling a 15-6 record and handing Port Jervis a loss in the Section IX Class A softball tournament before getting stopped by one-seed Cornwall in the semifinals.
Going into the spring of 2013, the Lady Raiders are without pitching ace and Daily Freeman All-Star Elizabeth Brisley and her monster statline: 9-3 in MHAL, 11-5 overall, 117 strikeouts, and an ERA of 1.55.
Gilbert lost another eight players to graduation in 2012, but he said, while their contributions will be missed, it "is time to turn the page to this year's team."
The squad is returning some important pieces. "We are fortunate to have Ashley Cahenzli (Poughkeepsie Journal 2nd team) returning as our starting pitcher. She brings a wealth of talent and knowledge to our team," said Gilbert. "We also return Ashley Pica who last year was the best defensive third baseman in the league. Also last year, we used Danielle Region's speed off the bench as a runner. This year she will use that speed to roam the outfield."
Gilbert is looking to his underclassman players—outfield juniors Amanda Bard, Collette Sofokles and Adrianna Spruches, infield juniors Moorea Martin and Daphne Shcroeder, infield sophomore Lauren Marici and newcomer Jessica Osterhoudt—to "step up" their game and build a base for Red Hook moving into the season.
He will also be calling, intermittently, on a stable of four JV players to fill holes: Cassidy Murray, Ally Jerro-Greco, Kalli Thorpe and Ariana Padilla-Carreras.
Red Hook hosts Rhinebeck at the Red Hook Recreation Park in their home opener on April 3 at 4:15pm.
Facebook Comments