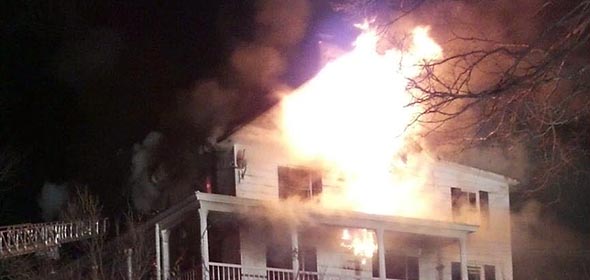 A rapidly spreading late-night fire trapped two occupants in their Rhinebeck farmhouse April 7 before state police managed to rescue them safely.
The Rhinebeck fire department was dispatched to 190 Mill Road following the report of a structure fire at the address at 2:36am and a second report that the caller was attempting to remove his mother from the house and fire was preventing him from doing so.
New York State Troopers Russell Wright and Chad Greer arrived on the scene first and were able to safely remove Audrey McLaughlin, 92. Her son, Gary McLaughlin, 60, followed them out of the home, according to a Rhinebeck Fire Department news release.
The elderly woman was transported by paramedics to Northern Dutchess Hospital for evaluation, Rhinebeck Fire Chief Rick Dorrer said.
Dutchess County fire investigators at the scene determined the fire was accidental and probably caused by a faulty chimney, the news release said. There were smoke detectors in the home but they didn't work because of apparent battery failure.
Dorrer told The Observer that when he arrived at the scene, he immediately requested a second alarm and additional tankers to assist in a water relay because the three-story farmhouse, parts of which dated back to the 1800's, sat back more than 2,000 feet from the road.
"It was a difficult fire because of the water source," he said. With 70 firefighters on the scene, more than 2,000 feet of five-inch hose had to be laid out to supply water from the other responding fire departments. "This one took a lot of tankers," he said.
The fire-fighting operation began with an interior attack, but as the fire grew in intensity on the second floor, all the firefighters were moved outside. From there, four hose streams were used to attack the main fire and then firefighters were able to resume interior fire control.
The fire was deemed under control at 4:15am and the last Rhinebeck apparatus left the scene at 10:45am.
Dorrer said the house was still standing, "but not liveable, nor will it be liveable."
Assisting the Rhinebeck Fire Department at the scene were the Hillside, Roosevelt, Rhinecliff, West Clinton, Ulster Hose #5, Milan, and Red Hook fire departments. Also there were Northern Dutchess paramedics, state police, Dutchess County sheriffs, and the Dutchess County Fire Investigation Team.
Dorrer noted, "It was a good response… All the neighboring companies assisted very well, as needed."
Facebook Comments