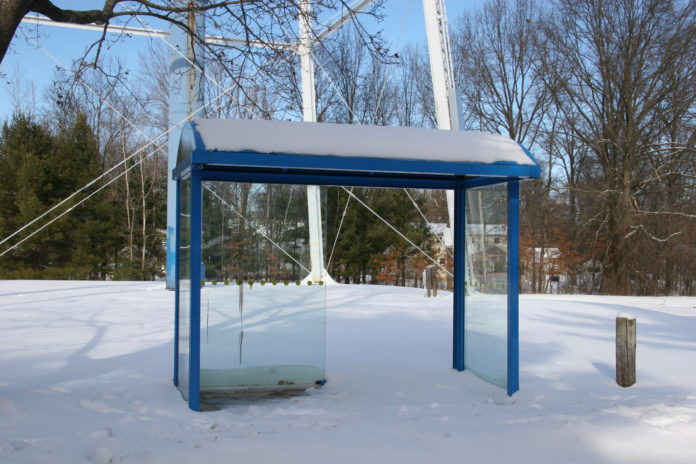 The new Tivoli bus stop is getting ready to roll. But now it needs a village variance.
Some final steps are still needed before the Dutchess County Loop Bus and Bard College Shuttle begin to use the new shelter that was erected near Tivoli Memorial Park on Pine Street.
Trustee Joel Griffith, who is guiding the project through Planning Board approval, told the village's trustees at their March 20 workshop meeting that everything was on track to get traffic flowing to the new location.
The new bus stop location is in the R15 residential zoning district, where a bus stop is listed as a permitted use. However, because the structure must be right along the road, a variance is needed to waive the 30-foot setback requirement. According to Griffith, the Board of Trustees had the option of legally circumventing the planning board process, however, they felt obtaining a permit by the normal method would be more transparent. "We had the choice of going through the planning board or not, but we decided to because we want everything to be out in the open," he said.
The plan also includes the addition of a new lamppost on the east side of the structure. The item was donated by Bard College and is similar in design to the lampposts currently outside Village Hall. The lighting of the stop has been one of the main hurdles in beginning service to the location, as Bard has previously voiced concerns over the safety of the dimly lit park area. The village has the lamppost, but the department of public works has not yet put it up.
Griffith is also hoping that the village will be able to reach out to the Bard community, which will be making substantial use of the bus stop, to create creative and practical benches for the location.
The bucket seats that came with the shelter, which was donated by the Dutchess County Department of Transportation, are not going to be used because of their limited capacity, seating a maximum of four people, Griffith said. Trustee Susan Ezrati noted that student involvement would also help to foster a sense of ownership for Bard students and make them feel more connected to the village.
According to Griffith, the main purpose of the bus stop location change is to ease traffic congestion along Broadway and to remove the vehicular and pedestrian noise created by the stop to a less residentially dense area. The old bus stop is in front of the Tivoli Post Office and the new location is one block north.
For now, the Planning Board has approved the site plan for the project and set a public hearing for April 22.
Facebook Comments