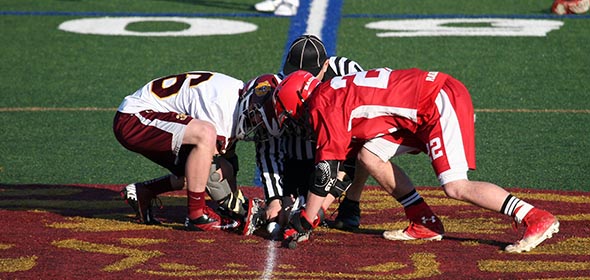 Red Hook lacrosse head coach Rich Saulino likes hard games early in the season.
On April 5, he got his wish: His Raiders team traveled to Class A Kingston just three days after getting blanked 7-0 in their road opener at 2012 Class A Champion Minisink Valley. In Kingston, they lost 15-3 under the lights at Dietz Stadium.
"We do this on purpose," Saulino told The Observer of his team's difficult early-season schedule, "so that we do have a higher level of play than we're used to as we head into the mid-season and later make a push toward the playoffs. I wouldn't do it any other way."
It's good strategy in the long run, because Saulino uses tough games to prepare his team for more stringent competition later in the season and out-of-section opponents in the potential post-season.
But it's rough going at the outset.
Red looked rusty in the first quarter at Dietz Stadium, dropping balls on potential clears, rotating slowly on defense, and managing only two shots on goal and converting neither.
The Raiders couldn't buy an offensive break until deep in the second quarter, when attacker John Alessi scored the team's first goal on a barreling roll dodge. Offensively, Red had trouble moving the ball past midfield, and converted very few long passes; on defense, they couldn't handle Kingston's tight passing and ball movement. The Tigers would score four times in the second, with three of the made shots coming from within 10 feet of the goalie crease.
Red Hook goalie Austin Loeffel did his best to keep things in hand, but Kingston outshot Red Hook 41-14, and Loeffel made 13 saves on the evening before checking out in the fourth quarter. Comparatively, Kingston's goalies combined for six saves altogether.
Facebook Comments