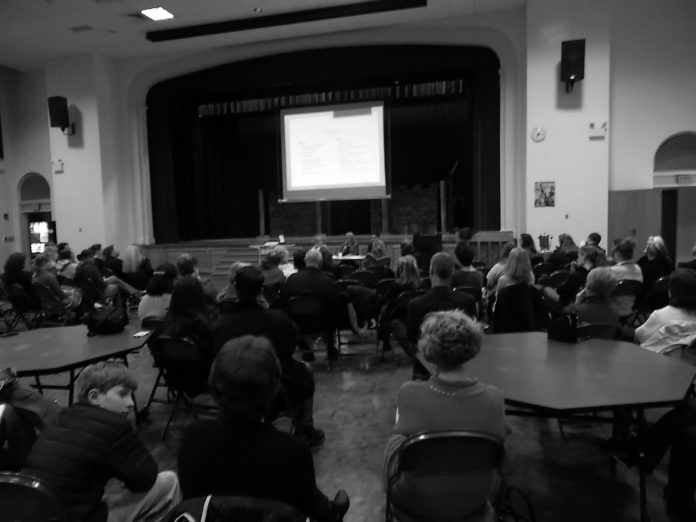 A meeting held by the Red Hook Central School District on April 16 sought to soothe parents' concerns and respond to questions raised about workshops that discussed gender identity given to eighth graders, in part by Bard College students.
Linden Avenue Middle School principal Dr. Katie Zahedi defended the intent—and focus—of the classes even as some parents said their kids got an entirely different take-away message.
Shortly after the separate workshops for boys and girls were held in the Linden Avenue Middle School on April 11, concerned parents took to social media to air grievances about what their kids told them happened during the sessions.
In the girls class, one parent wrote in a Facebook forum for Red Hook parents, "… they had 2 Bard students come in to talk to just the girls. They [proceeded] to tell them that they can start having sex at their age and there is nothing anyone can do about it, not even their parents."
In the boys' class, another parent whose son attended the boys workshop wrote, "Questions were asked about what constitutes girls as sluts, such as what they wear or how many boys they sleep with."
The online exchanges sparked questions and anger from a number of other Red Hook parents, and led to the impromptu meeting with district staff.
At the meeting, which was contentious at times and lasted little more than an hour at the middle school, the school principal, Dr. Katie Zahedi, explained why the district thought the exercise was necessary. She stressed that the workshops were "not sex education," and that the students were taught "no new information."
She also refuted the claim that the students were told they could have sex, calling it "patently false." She said students were told they shouldn't feel pressured to have sex.
The school began the program this year in an effort to comply with the 2012 state law called the Dignity for All Students Act. Whether or not this new law, meant to protect students from bullying, requires programs like the one given in Red Hook was the subject of some debate at the meeting.
Facebook Comments