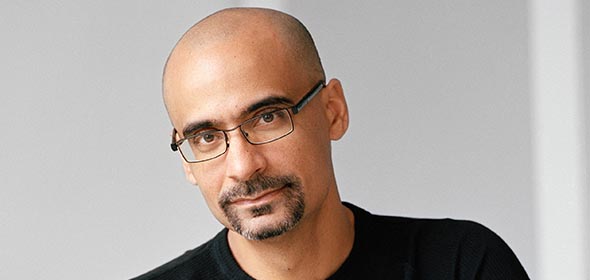 Junot Díaz is a slight man with black-framed glasses, sharp eyes, and a goatee. Clad in blue jeans, blazer and T-shirt, he stood next to, not behind, the podium of Olin Auditorium at Bard College, fiddling with the microphone before his reading on April 1.
"He's not how I imagined him," my friend said.
"More like Oscar?" I replied, referencing the overweight Dominican supernerd, the title character of Díaz' 2008 novel, "The Brief Wondrous Life of Oscar Wao," which won him the Pulitzer Prize.
She nodded.
Díaz, who was born in the Dominican Republic but raised in New Jersey, makes no effort to hide his nerdiness: he has read "Lord of the Rings" twice yearly since he was nine. "Guys, I am so f—ing boring," Díaz told the Bard audience.
In addition to the Pulitzer, Díaz has won the National Book Critics Circle Award and is the recipient of a 2012 MacArthur "Genius" Fellowship. He is currently the fiction editor at Boston Review and is the Rudge and Nancy Allen Professor of Writing at the Massachusetts Institute of Technology.
Author Bradford Morrow, a literature professor at Bard, gave the introduction, describing Díaz's writing as "a language in which English and Spanish functions in a synergistic harmony."
"We love you, Junot," he said.
Díaz then read two stories, one from "The Brief Wondrous Life of Oscar Wao" and the other from his most recent work, "This is How You Lose Her." But first, he asked to borrow the book from a student in the front row; he said he had forgotten his copy in his office. He read with the certainty of a man who has scrutinized every word a million times before and the audience was enthralled.
Díaz works so meticulously that, he said, it took 16 years and 100 chapters to write the final chapter of his most recent book. "Guys, it's not as if I can't write a f—ing story," he said.
Díaz spoke to a packed auditorium, filled mainly with students, a few town residents, and a handful of people from the Caribbean (he took an informal demographic poll by hand-raising at the beginning of his talk).
The microphone wasn't working for half the talk, though the room was so quiet that he could easily be heard in the back row.
Three years ago, Bard Spanish Studies Prof. Melanie Nicholson and a few of her students tried to invite Díaz speak at Bard, but there was no money for the visit. Bard senior Gillian Maxwell then wrote to him last September on Facebook, saying she was an admirer and would love to have him speak on the Annandale campus.
He replied, saying that Bard should invite him again.
"From then on," Maxwell said, "Melanie kind of took over the official conversation with his agent, and we both convinced enough Bard groups to help fund the visit."
In the Q&A session after his reading, Díaz told students pursuing careers in the arts that real-world experience was important, not fortune and fame.
"The only reason anyone wants to hear from you is because you have news of the world," he said. "Be present all the time."
Facebook Comments