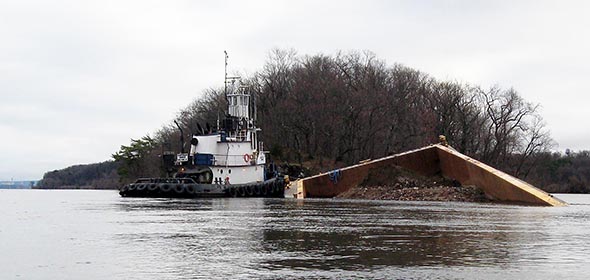 A barge loaded with soil ran aground and was partially submerged off the south end of Magdalen Island, near Tivoli, in the early hours of April 11.
Charles Rowe of the U.S. Coast Guard told The Observer that the incident involved the barge "Tim M" and said an investigation will determine "precisely what happened and why, in order to prevent something like this in the future."
John Lipscomb, a boat captain for Riverkeeper, said they get calls like this almost once a week at this time of year from recreational boaters and hikers. Riverkeeper is an organization that works to protect the Hudson River. He told The Observer that the barge was coming from Allocco Recycling in Greenpoint, Brooklyn, headed for P & M Terminal in Coeymans, and that it was filled with soil.
However, Lipscomb said that any soil that got dumped as a result of the submerging may not be particularly harmful to the Hudson River. According to Lipscomb, the runoff from asphalt and other materials during normal rain events is even more harmful than "whatever chemicals are in this soil."
Joseph Pellis, an attorney for Allocco Recycling, told The Observer, "Allocco screens all incoming and outgoing material and the material that they put on the barge meets the NYS DEC Part 375 table B concentration limits to qualify as clean fill and we have lab reports that support that."
NYS DEC Part 375 gives the guidelines for soil remediation and table B lists the allowable chemical concentrations for remediated soils.
The state Department of Environmental Conservation confirmed that it was not getting involved in the barge incident because the spilled material is not hazardous.
As of press time, the Coast Guard was still waiting for a salvage plan from the barge owner. The submerged vessel is not blocking the waterway.
Facebook Comments