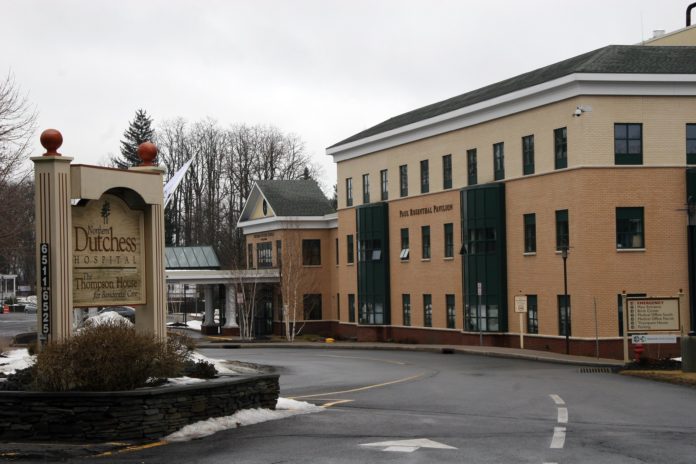 After weeks of uncertainty, Northern Dutchess Hospital will not be granted a payment-in-lieu-of-taxes, or PILOT, from the village of Rhinebeck for the bottom floor of its planned three-story expansion.
The requested PILOT, which was seeking a waiver on $114,552 in payments over seven years, could have had a potentially significant impact on the village property tax roll and on Rhinebeck school taxes.
"Money, money, money," Mayor Jim Reardon said when asked why the village wouldn't enter negotiations on a PILOT agreement for the for-profit section of the proposed wing. He said that because the village will be breaking the state-mandated tax cap already this year, it can't afford the PILOT.
Reardon cited the 2-percent tax cap as a prominent factor in the decision, which had unanimous support from the village board of trustees, saying that until "there is any meaningful mandate relief," the village will continue to be in a financial bind.
The three-story, $30 million addition to the hospital, which is owned by Health Quest, is to be developed by Kirchhoff Medical Properties. The wing would be leased to Kirchhoff Medical Properties for the duration of its construction.
Once construction is completed, the developer would lease the two top floors, to include 40 single-bed patient rooms and six new operating rooms, back to HealthQuest, and they would be tax-exempt, as is the rest of the hospital complex.
Kirchhoff would retain the bottom floor, which it would then lease to various physicians and medical providers of its choosing as a for-profit venture.
Asked by village board members at their April 9 meeting if a PILOT was necessary for the project to move forward, Joe Kirchhoff, CEO of Kirchhoff Properties, said that it was not.
In response, Reardon told Kirchhoff the village board would not agree to a PILOT for the first floor.
While Reardon said he understood the important function the hospital plays in the community and wants it to succeed, the village could not support a for-profit floor.
Catherine Maloney, president and CEO of the Dutchess County Industrial Development Agency, told The Observer she was "not sure" if the Rhinebeck Central School District and the Town of Rhinebeck could negotiate tax agreements separately. In her experience, Maloney added, PILOTs between separate municipalities and governing entities like school boards and districts have always been negotiated "under one formula."
Facebook Comments