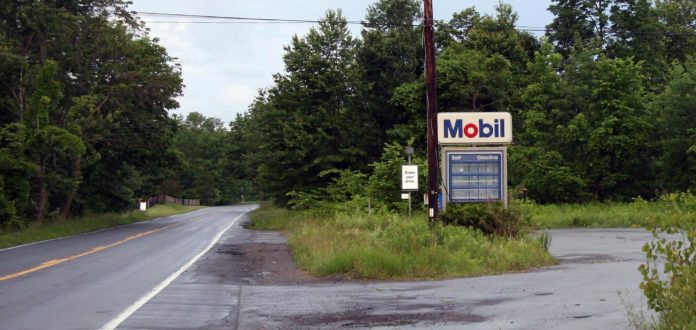 Milan's planning board unanimously approved the site plan for the Route 199 Mobil station — called Chestnut Mart — at its April 29 meeting.
Chris Jett, construction manager for CPD Energy Corp., kicked off the required public hearing by giving the board an overview of the plans, noting alterations in several areas that were requested by the board. Those included the color of the siding (green) and the choice of a mansard-style canopy over the 12 gas pumps. There will also be two diesel pumps.
The gas station, to be built on the site of a burned-out Mobil just west of the Taconic Parkway, will have a 2,475-square-foot convenience store and also a drive-thru, which is permitted under recent zoning changes approved by Milan's town board. The station will also be open 24 hours, according to Jett, although the planning board has reserved the right to review and adjust the hours after one year.
Jett said CPD will apply to Milan's zoning board of appeals in order to change its current sign variance and increase the height of the proposed sign. The sign must show cash and credit prices, according to new regulations from Dutchess County. As it is currently designed, the sign will be 17 feet high, and the new variance would allow an additional two feet if it is approved. According to Jett, all the outside lights will be LED. The planning board will review the lighting plan within one year of the store opening (or earlier if there are complaints) in order to determine whether it is sufficient or too bright.
Two Milan residents were present to view the plans. One asked whether CPD has decided who they will lease to for the proposed drive-thru and Jett said that they have not yet decided. Jett also confirmed that a carwash originally proposed for the site is no longer part of the plans.
If all goes according to plan, Jett reported that they would like to start construction right after Memorial Day.
CPD will appear once more before the planning board in order to sign the plans and must secure its new sign variance from the zoning board of appeals before it can break ground.
Representatives of a second proposed gas station, a Sunoco further down Route 199, have yet to appear before the planning board with a completed site plan.
Facebook Comments