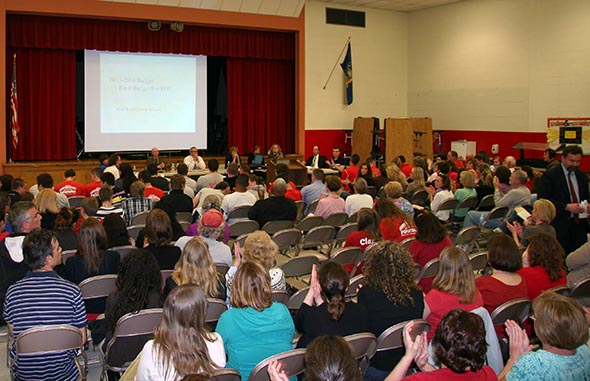 In a series of strong statements aimed at defusing a controversy that threw a national media spotlight on Red Hook, school officials have acknowledged there were some mistakes made involving a recent middle school gender identity workshop but they are rejecting "absurd allegations" about the sessions.
During the week of April 9, 8th grade students at Linden Avenue Middle School attended what the school has described as communication workshops consistent with the requirements of the Dignity for All Students Act (DASA), the state's anti-bullying law. Divided by gender, the groups discussed a list of gender identities and sexual orientations and were led, at least in part, by Bard students. The girls' session included a "no means no" role-play activity.
According to the school's web site, the goal of the discussion was to "encourage students to treat one another (and all marginalized groups) with more respect, as well as to further develop an appreciation for personal dignity."
Controversy arose after some parents took to a Facebook forum to air concerns about what their kids told them happened during the sessions. Those included claims that: teachers left the room unattended, the Bard students may have been unqualified to lead the classes, students were told they could have sex and there was nothing their parents could do about it, and girls were forced to act like lesbians and ask other girls for kisses.
The school has denied that any of these things occurred. But the online claims were picked up by local media, and then national media outlets ran headlines about "forced lesbian kisses" and "lesbian role play." The coverage spurred the National Organization for Marriage, which is working to ban same-sex marriage, to use the incident in an e-mail fundraising plea.
In an open letter responding to one such story posted on the school website, Red Hook Superintendent of Schools Paul Finch wrote to a Fox News reporter, "To suggest that we would condone or promote sexual activity among teenagers is absurd. It is equally absurd to suggest that an activity designed to have young women feel more confident saying no to unwanted advances from boys is in some way promoting a lesbian lifestyle."
At the April 24 meeting of the Red Hook Board of Education, Board President Kelly Mosher walked residents step-by-step through the situation — and the school's plans to avoid similar ones in the future — before opening the floor for public comment.
Mosher explained that the district is "in a sense obligated" to teach these topics because under DASA, "the school district is liable for acts of bullying perpetrated by our students on school grounds and at school events."
She then outlined what the district would do to make sure correct procedures are followed in the future.
"Any time we have someone who is going to be in our classrooms that is not a faculty member…. there will be lesson plans vetted by the building principals," Mosher said. "Notification will be given to parents in writing anytime the topic can reasonably be expected to be considered… a sensitive area. When there are visitors in the classroom… there will always be a Red Hook Central School District staff member in the classroom at all times, that they will be knowledgeable about the curriculum at hand and they will be present and visible at all times."
Facebook Comments