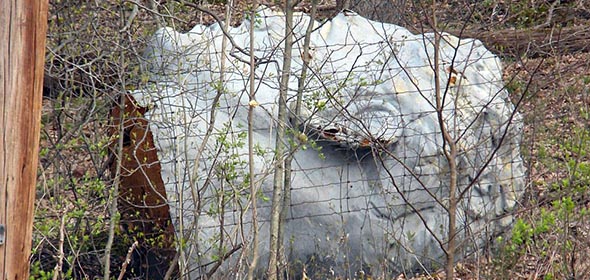 There are close encounters and then there are strange encounters.
The Marist College crew team had both when they found a "giant foam head" floating in the Hudson River the week of April 24.
The 7-foot-tall head seemed like "something out of a post-apocalyptic movie," Matt Lavin, Marist's crew coach, told news outlets. "We saw something floating in the water before we launched. It was floating up high in the water, which is pretty unusual," Lavin told The Observer.
The head, which is reported to have an internal metal frame, a core of Styrofoam, and a fiberglass exterior, was so waterlogged and so large that it took 10 crew team members to bring it up onto shore.
In photos, the head appears to have been crafted in a Greco-Roman style, but is now weather-beaten, with the nose missing and other parts of the face scuffed. Marist has been soliciting information on the head's origins, suggesting that it could have been a theater prop at one time or could have come from a Mardi Gras float and traveled up the tides all the way from New Orleans.
However, Lizzy Wooden Throckmorton, a resident of Upper Red Hook, told The Observer she spotted the head last year while walking near Germantown. "We saw it April 7, 2012, while walking along the RR tracks between Cheviot park and Germantown boat launch," she said. "I am not positive [it's] the same one, but how many Styrofoam heads can there be floating around Dutchess County?" At the time, Throckmorton took photos of the head, which show it was lodged against a wire fence in a wooded area.
To add to the intrigue, the blog Wesley Treat's Roadside Resort reported on April 30 that the head may have come from Bergen County, N. J., where it was apparently spotted at least a decade ago, The blog quotes a 1999 article that appeared in the magazine Weird N.J. and included a photo of a head in an unidentified owner's backyard. The owner told Weird N.J. that that head came from Saks Fifth Avenue in New York City but gave no further details.
Could there be more than one such head from Saks Fifth Avenue? How and when did such a large head travel up the Hudson from someone's backyard in Bergen County, if that's what happened? How long did it reside in Germantown?
If you have information, please send us an email at news@rhobserver.com.
Facebook Comments