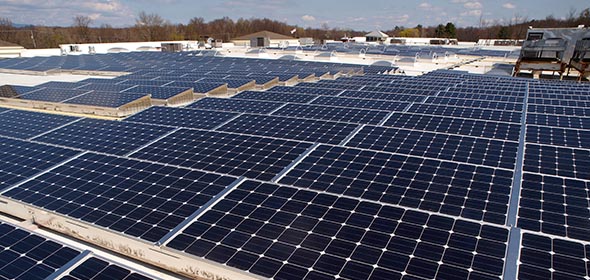 Rhinebeck's Stop & Shop supermarket now boasts 726 solar panels on its roof, which will provide a total of 214 kilowatts to their electrical system. The installation was unveiled at a press conference at the store on April 26.
According to a press release from the New York State Energy Research and Development Authority (NYSERDA), which partially funded the project, the store's solar photovoltaic (PV) system will generate electricity equivalent to powering more than 270 average homes and is an example of the types of projects encouraged by Gov. Andrew Cuomo's "NY-Sun" initiative.
While the size of the installation is impressive, the amount of energy produced will not exceed the needs of the 68,000-square-foot store because of the amount of refrigeration necessary for its products, Arlene Putterman, Manager of Public and Community Relations for Stop & Shop's New York Metro Division, told The Observer.
"It certainly does help as far as lighting is concerned," she added.
Karl Reuter, the general manager for the Rhinebeck store, told The Observer, "It's definitely a positive thing; it's good for the community and good for the environment. It's nice to see that some large companies are actually trying to be efficient with energy."
Three other Stop & Shop stores — in Monroe, New City, and Tarrytown — already have solar installations and two others are in the works in Ossining and Yonkers, according to Putterman.
"It's part of our Responsible Retailing commitment and it's part of our promise to be a better neighbor by caring for the environment and the communities that we serve," she said.
Cuomo's initiative was launched in 2012 and since then, according to NYSERDA, "242 [megawatts] of solar PV has been installed or is under development, more than was installed in the entire prior decade " That translates into the avoidance of 120,000 tons of greenhouse gas emissions or the removal of "23,000 cars from the road," the agency added.
Facebook Comments