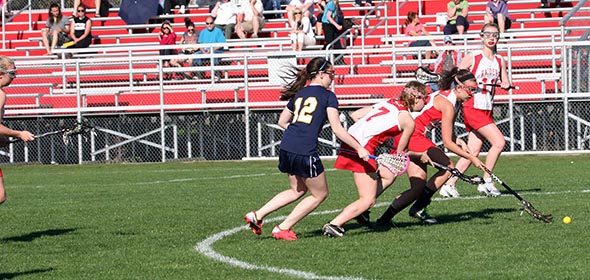 The Lady Raiders are making it look easy. After a 21-3 victory against first-year program Highland on May 1, Red Hook is sitting pretty with a 9-1 record.
Credit most of that to their high-powered offense, which team captain and defender Summer Mosher said, "makes it pretty nice for defenders, for people like me."
She and the other members of the defensive corps could have taken the day off against Highland. Red Hook possessed the ball for the brunt of the game and got off to a fastest-of-fast start, with three Raiders—Marist Parr, Olivia Bemis, and Ciara Burud—scoring goals in the first five minutes.
Red didn't have to rely heavily on offensive strategy playing against the rookie team. They scored mostly on assists and one-on-one opportunities, especially with Parr on the field. On her way to a five-goal game, Parr netted two goals in the first half and assisted an Erica Mansfield goal at 8:13 with a long dish, to put Red Hook up 13-1. Highland scored the final goal of the half at 1:44, to make it 14-2 at the half.
Things cooled off considerably for Red after halftime. "In the second half, we were trying to spread things out and run some things, and it took us about 10 or 12 minutes in the second half to actually start executing well again," Red Hook head coach Yvonne Turchetti told The Observer. "But sometimes that happens, we dipped."
But a Red Hook dip, at least this season, isn't much of a dip. Even with the offense not clicking perfectly because Turchetti used the lead to play some second-and-third teamers, Red still scored seven goals on the half, including a goal at 23:38 from eighth grader Mia Michaelides. Parr finished her scoring campaign with a left-handed scoop goal at 2:57.
Parr led all scorers in the game; both Red Hook's Caitlin Swanson and Lindsay Hobson had four goals on the night.
"Highland came out stronger than the first time we played them—this is their first year, so they've definitely improved," Turchetti said, "I was happy with how we hit them really hard off the bat, and how we pressed them throughout the game. Our offense was really clicking in the first half – the second half, eh."
Red Hook team captain Olivia Bemis said the team is virtually built for success this year. "Our coaches have us really focused on the fundamentals, we work them every day," she said. "We work well together as a unit, we have talent across the board, we have fast people on offense, really great people on the midfield and defense. There's just a lot of skill and a lot of talent."
With the season winding down, and the final regular season game scheduled for May 15, the Red Hook girls have key wins against every Section IX Class C opponent, and are a lock for the Section IX Class C title.
The ladies might want to start looking ahead—neither of the Red Hook lacrosse programs has ever scored a win in the Class C state tournament.
Facebook Comments