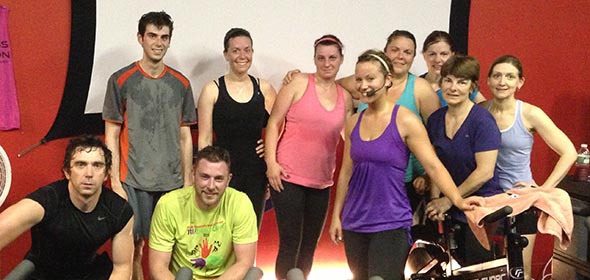 Liz Cort's ambition is now reality, and she's ready to celebrate.
The Red Hook mother of two will be holding a one-year birthday bash for her new brainchild, Fitness Fusion of the Hudson Valley, on Sat. June 1 at the studio in the Old Chocolate Factory.
Cort, a former collegiate athlete and veteran fitness competitor and coach, sought to establish a fitness studio that was nurturing, innovative, challenging and affordable. She wanted a fitness facility that focused on the whole person and fun, and so, from its inception, Fitness Fusion of the Hudson Valley was designed to be more than a standard box gym, to become a fitness "home," that established partnerships and nurtured the goals of its clients.
At Fitness Fusion, the instructors and staff know the names of each of the clients arriving for the more than 20 scheduled classes a week, which include some of the most innovative classes in the Hudson Valley, like Real Ryder Spin, TRX, or the all-new R.I.P.P.ED. And they also help them focus on such personal goals as diet, nutrition and supplementation. In addition, the staff helps clients achieve their aspirations, which range from training for a marathon, a mud run or fitness show to a transformation for a high school reunion, a photo-shoot or simply achieving overall wellness and health.
Clients enjoy the intimacy of the small classes and individual attention from instructors compared to the autonomy that comes with a larger gym, Cort said in a news release. "There are real friendships being forged within the walls of Fitness Fusion and a true support system in place."
She added, "In a world where fitness trends come and go, Fitness Fusion offers the harmony and balance between fads and proven classic techniques that work. Classes have been designed and can accommodate all fitness levels from the extreme sports enthusiast and professional athlete all the way to the fitness rookie. At Fitness Fusion, there is no hard or fast client profile."
You can find out for yourself: attend Fitness Fusion's one year birthday bash, Sat., June 1, from 2 to 4pm. You'll see the studio's instructors and clients in full swing. There will be free samples of AdvoCare, the studio's choice nutritional line. You can also find out what it means to "Spark-up," and you can participate in one of the many contests: sit-ups, push-ups and pull-up contests. Prizes, including a six-month unlimited class package, will be awarded.
Facebook Comments