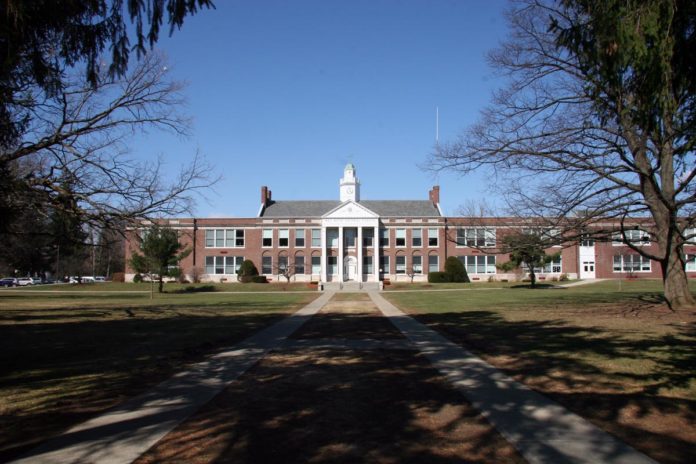 The annual ritual of standardized spring tests for elementary and middle schoolers was accompanied this year by a growing opt-out movement, which gathered steam in Red Hook and Rhinebeck as it did in school districts across the state.
Opinions vary, but just about everyone seems to agree that there is too much testing in New York State schools. Parents and school administrators alike have expressed concern that the number of tests is creating the wrong type of atmosphere in schools and sending the wrong message to students about learning. This year, the state, like most others, switched to a new and tougher curriculum, called Common Core, which required extensive testing in mid-April.
Maryann Mullen, a Red Hook parent whose middle schooler opted out of several tests this year, said, "It's just the opposite of what you want at these critical K-8 levels. You want a nurturing positive environment. Instead, it's one test after another, after another."
Lisa Murray, also a Red Hook parent with a middle schooler who opted out, said she was worried that "we're creating a generation full of anxious students…or they're going to drop out by ninth grade because they can't handle all the testing."
In both school districts, students in grades 3 through 8 were given an English Language Arts (ELA) test spanning three days, at 90 minutes each session. The following week, they were given a math test for same amount of time. Fourth and eighth graders also sat for a science exam, which is required once during grades 3 through 5 and again between grades 6 and 8. The "Common Core" initiative is now underway in 44 states and the District of Columbia. Although these tests have been given in some form since 1999, the new standards were adopted by New York state in 2010.
Whether to protest publicly or out of anxiety or from peer pressure, more students than ever refused these tests in Red Hook, according to Schools Superintendent Paul Finch, with some reports indicating about 55 students refused the ELA exam and roughly 30 students opted-out of the math. In Rhinebeck, however, only one student was reported to refuse.
Besides these tests, teachers in other subjects, such as art, gym, and music, are required to give state-mandated "Student Learning Objective" (SLO) tests at the beginning and end of the year. Then there is the Northwest Evaluation Association (NWEA) which measures teacher performance and which is given to every student in grades K-12. Students have not refused these tests, nor is there a mechanism for doing so.
Edie Meidav of Rhinebeck, told The Observer, "My own counsel to my children revolves around this idea: education should be project-oriented, as the changing sociopolitical and environmental milieu ahead of them will ask them to be responsive, innovative thinkers. I believe strongly in the mission of public education, yet find it unfortunate that so much learning (especially this year) has become geared toward the test."
In talking about the testing, Rhinebeck and Red Hook administrators focused their concern on the diagnostic value of these tests.
Finch told The Observer, "District officials are put into a very difficult place with this new testing regimen. On the one hand, we are required by law to comply in the administration of these assessments. On the other hand, we are all aware of the dangers in over-reliance on standardized assessments and testing fatigue."
He added, "The one thing I know for sure is that no one wants to watch an eight year old (or any child for that matter) break down crying over an assessment that is way too long and lacks diagnostic value."
Rhinebeck Superintendent Joseph Phelan was particularly frustrated that the state education department decided to test students this year on the new curriculum, because it will not be fully implemented in school districts until the next school year. The state education department has publicly acknowledged that because of this, lower scores from students are expected.
"Schools have not had the time and opportunity to do their best work to implement a significant modification in the curriculum," Phelan said.
Phelan also had a problem with the requirement that school districts administer field test questions, which are designed by testing companies to shape future tests and have no bearing on the students' scores on the real test.
Phelan suggested that in one test, students were given two booklets, the first of which had field test questions. "Our kids were working very hard and becoming very frustrated working on questions that were out of their realm of experience," he said. "By the time they got their second booklet, they had run out of time." He pointed out that the second booklet contained the test that would have bearing on students' scores, as well as on teacher and school district evaluation.
"At the very least you'd like the test set up so the kids have the best chance of being successful," he added.
Murray said she was frustrated that administrators could not provide parents with a clear option for opting students out of the tests. According to Mullen, other states have created an opt-out option, but in New York the student must simply refuse in a move she likened to to civil disobedience.
Finch confirmed that there is no actual opt-out option for parents and students.
"The State Education Department's position is that the refusal code should not be used as an opt-out option by parents," he said. Instead, Murray found a form letter, from an opt-out parent group, which stated that she was giving permission for her son to refuse to take the test.
On the other hand, Red Hook parent Jennifer Monarchi told The Observer that she supported her fifth and eighth graders' decisions not to opt-out. "While I personally feel that there are too many standardized tests, and too little teaching time in the classroom, I am not certain that we should use our children to make a point to the powers that be," she said.
"The very act of sitting out on the tests creates social situations that the children have to answer for—with peers, teachers and others," Monarchi said, adding, "It's taking them from one stressful situation and placing them into another one."
Monarchi suggested that if parents are the ones objecting to the testing, there are more effective ways to reach decision-makers with this message. Red Hook and Rhinebeck school administrators agree.
They said that parents can more effectively express their displeasure at all the testing by contacting politicians and the state education department and working through the official channels for protesting testing.
Opting out could carry serious consequences for a school district, although Finch pointed out that the actual consequences are largely unknown.
"The potential consequences include being designated as a school or district that did not make "adequate yearly progress" based on a required 95 percent participation rate. As a result, funding may be affected," he said.
He noted that students might also face more personal consequences, such as being designated for remedial services that they don't actually require, and teacher evaluation could become more difficult.
"We just don't know yet," he said.
Another option mentioned by Mullen and Murray would be to pressure the local school board to pass a resolution against "high stakes" testing, as was done earlier this year by New Paltz and Rondout schools districts.
According to Finch, a resolution is being developed in Red Hook for the Board of Education to consider. Phelan reported that Rhinebeck BOE "has not decided on a specific course of action at this time."
"At the end of the day, a resolution is a statement to the powers that be," Finch said. But, he added, "whether anyone is actively listening to the statement is the real question."
Facebook Comments