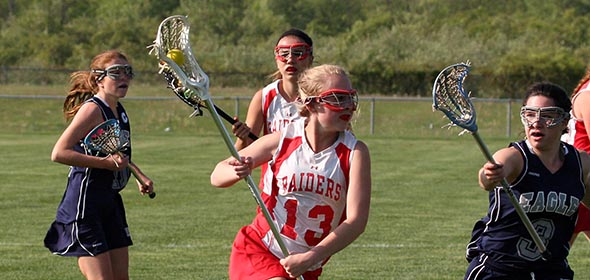 In girls lacrosse, if one team is leading the other by 10 points the clock starts running with no stoppages of play for goals, fouls, or out-of-bounds calls—for everything but time-outs.
For the Red Hook girls, it's rarely a question of if they'll get to that point, it's a matter of when.
The clock took a little longer to start running unchecked when Red hosted John S. Burke on May 15. But with their 15-5 win, Red Hook goes undefeated at home on the season and undefeated in divisional play, their only two overall losses coming against Non-Sectional opponents Albany Academy and Glens Falls.
The Lady Raiders made a customary offensive run to start the game against Burke. Lindsay Hobson, Marist Parr, Ciara Burud and Caitlin Swanson all netted goals before the 15:00 mark in the first half. But Burke had their own scoring run in the middle of the half, putting three points on the board and disrupting Red Hook's offensive flow by collapsing quickly on Raider attackers.
"Burke always plays us tough," Red Hook head coach Yvonne Turchetti told The Observer. "They swarmed well defensively, but we adjusted."
Burke scored another goal on a breakaway at 5:16, and Burud flushed a goal for Red Hook to put the Lady Raiders up 9-4 at halftime.
But Burke couldn't find a way to handle Red in the second half, and only managed one point in the quarter. Red Hook's Laura Hegstetter scored the first goal of the half for Red Hook on a left-handed shot coming across the goal. Sarah Livecchi, Swanson, Hobson, Parr, and Burud—who put a shot in the goal after a tremendous clearing-attempt interception at 12:46—all scored in the period. Hobson scored the final goal of the half at 7:01 to give Red Hook a 15-5 lead and that one thing that seems to be a constant at Red Hook girls lacrosse games this season—a running clock.
Red Hook goalie Claire Troy had a big game for the Lady Raiders, posting 11 saves.
At their last home game, Red Hook held a small ceremony for their departing seniors. Turchetti is sad to see them go, but she has other things on her mind. "This group of seniors has been tremendous for several years. I'm excited for their futures, but I absolutely will miss them next year," she said. "But, it's not next year yet, and I'm excited for our post-season."
She has every right to be. With a 10-2 record and a high powered offense, the Lady Raiders are likely to win the Section IX, Class C Tournament in which they are the #1 seed, and, providing that they win the tournament, have a chance to win at least a game in the Class C State Tournament.
"We definitely have more work to do, as we prepare for the postseason," said Turchetti. "Our goal is to be playing our best lacrosse in the post-season, and the girls continue to be focused on getting better every day."
Facebook Comments