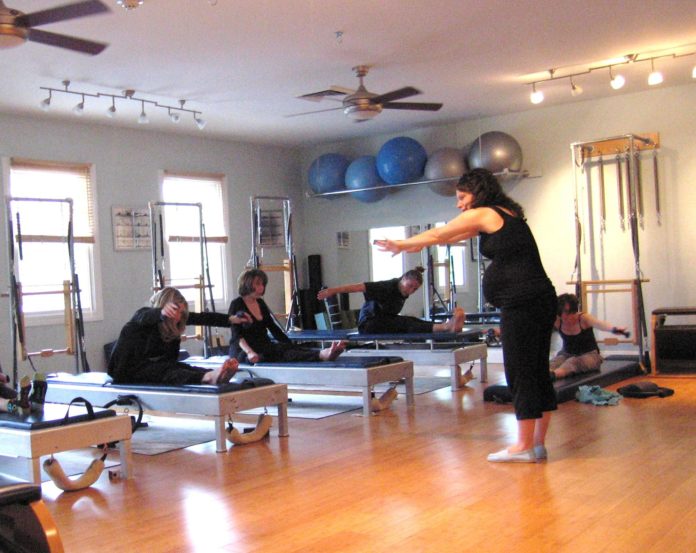 For those unfamiliar with Pilates, prepare for interesting news: gravity can be your friend.
During a recent class at Rhinebeck Pilates, instructor and owner Elaine Ewing guided six students through a set of exercises — some of the 600 to choose from: "Use your core," "Lift from the center," "Resist the bend." Audible concentrated breathing accompanied the slow, steady stretches and pulls.
In the early 20th century, a German named Joseph Pilates had as much passion for health of body and mind as Jack LaLanne would later in America. He devoted his life to developing techniques that targeted muscle strength and flexibility, combined with coordination, balance, and breathing.
After class, Elaine explained the system. "Pilates is full-body strengthening and core conditioning, either on a mat or with the equipment, using yourself against gravity. In addition to mats, we use the reformer, the tower, the Cadillac, the chair, and the barrels. Pilates is great if you're recovering from any kind of injury, and it's good for balance if you do a lot of jogging or weightlifting. You can mold it to what you need," she said.
With regard to her students' noticeable breathing, she added, "If you hold your breath, the exercise is not going to be there. Breathing is a huge part of the Pilates routine."
Elaine had always liked exercising and took a Pilates class while attending art school in New York City in the late 1990's. By 2000, she had completed the 600 hours of training to become certified and enjoyed teaching there. Originally from Rhinebeck, she admits she did not foresee that she and her boyfriend would decide to move here and buy a house in 2005. She then taught classes in the area and also took some with Roseanne Serpico, who was then the owner of Rhinebeck Pilates, which started in 2003. Elaine recalls a special lunch they shared.
"She said, 'I'm moving. Do you want to buy my studio?' For months, I had been thinking I wanted to open a studio, and it had to be just like Rhinebeck Pilates. This was perfect!" Elaine said.
Terianne Nerden has been Studio Manager for nine months. "Our studio is on the smaller side; however, our teachers are all certified through highly respected programs and teachers. This, compounded with our passion for the method of Pilates and our dedication to each person's success, makes us a one-of-a- kind place to start or continue one's Pilates practice. I am always thinking how lucky I am to work in such a successful, professional, and community-oriented studio," Terianne said.
Sue, a student from Taghkanic, added, "Elaine's sessions have been especially helpful for my sporadic back problem. It occurs less often, is less painful, and heals much faster when I practice Pilates regularly."
Elaine and the four other instructors at Rhinebeck Pilates welcome about 100 students every week. She noted, "We teach ages from teens to 80, and you don't have to be fit at all. There's always something extra that you can add to continue advancing every exercise. I've seen people's posture completely change, and it's just incredible. It definitely makes you feel good about what you do."
Rhinebeck Pilates
23D East Market Street
Open 7 days; call or check website for class schedules
845-876-5686 www.rhinebeckpilates.com info@rhinebeckpilates.com
Facebook Comments