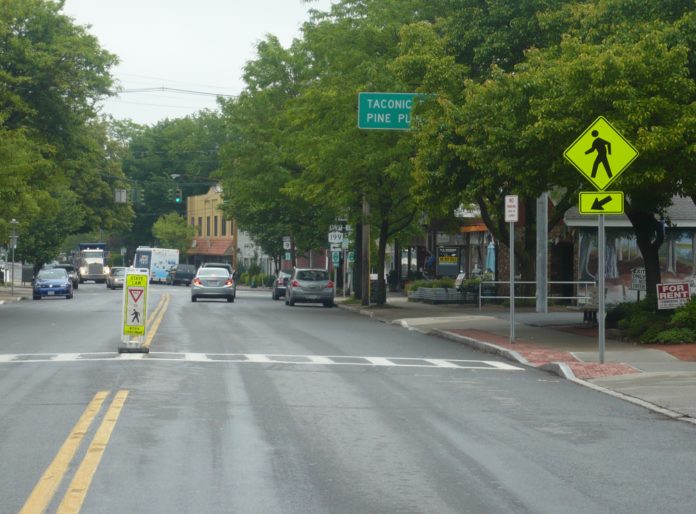 With warm weather finally here, village officials in Red Hook and Rhinebeck are reminding drivers and pedestrians that the streets are for sharing, but especially in crosswalks pedestrians have the right of way.
Village of Red Hook Mayor Ed Blundell is concerned that motorists may not be paying enough attention to the new crosswalks that were installed last year in the village.
"The law is that you yield to the pedestrians who are in your half of the road in the crosswalk," Blundell told The Observer. His observation is that drivers may be ignoring pedestrians hovering at the edges of crosswalks.
According to Blundell, village officials have put time and thought into infrastructure that will make the village more walkable, and in his view, "it makes [the village] more friendly if motorists stop [for pedestrians]."
Last year, grant money from the Federal Highway Administration and Community Development Block Grants paid for new crosswalks on West Market Street and Route 9 south of the traffic light. The crosswalks are newly painted, ADA compliant and, according to Blundell, in compliance with state Department of Transportation guidelines that require large neon-yellow signs 9 feet above the sidewalk with a black arrow drawing attention to the crosswalk.
In addition, weighted sandwich board signs have been placed at two intersections, one in front of Village Hall on Route 9 and another in front of Linden Avenue Middle School, another busy crossing place.
In the Village of Rhinebeck, pedestrian safety has been the priority of a Pedestrian Taskforce, which was formed in 2009 by then-village trustee Terry Gipson.
Working with Dutchess County Planning, the group identified areas for repair and suggested places for new or improved crosswalks and eventually their work was incorporated into the village's master plan. In 2011 a Hudson River Valley Greenway grant helped the village install two ADA-compliant crosswalks, one on East Market Street in front of CVS and one on Route 9 in front of Terrapin Restaurant, where in 2010 a pedestrian was struck and killed.
"The key here is to make sure people are aware ahead of time that they are approaching a crosswalk," Village of Rhinebeck Mayor Jim Reardon told The Observer. "To me, the best indication is in the road itself."
He added, "It's very easy for someone, especially someone who is new to Rhinebeck, trying to get to [a venue], they're focused on the buildings and the signs, they're not really paying attention to the roadway. So, the signage in advance and in the crosswalk is a big component."
Red Hook Village Trustee Brent Kovalchik pointed out that villages such as Red Hook and Rhinebeck were not designed in a way that helps with traffic control, due to staggered streets with few four-way intersections.
Blundell is also concerned that sometimes drivers who have had to wait at the main Red Hook traffic light at the intersection of Routes 9 and 199 don't want to wait again at a crosswalk one block away. "People get frustrated, then they see you standing by at the crosswalk and they think, 'I'm not going to wait for someone else,'" he said.
However, he said that DOT has studied the issue and determined that there isn't a lot the village can do to make the light work better. There are sensors in the road that monitor whether cars are waiting, Blundell said, but if a pedestrian presses the walk signal, that cues a red light for all four directions, even if cars are waiting.
"Unfortunately, a lot of pedestrians are using the intersection during peak [traffic] times," Kovalchik said. Blundell added that, according to the state,, approximately 14,000 vehicles cross through Red Hook's main intersection every day.
"It's a shared responsibility," Kovalchik said. "It's still the responsibility of the pedestrian to look both ways before they cross."
Facebook Comments