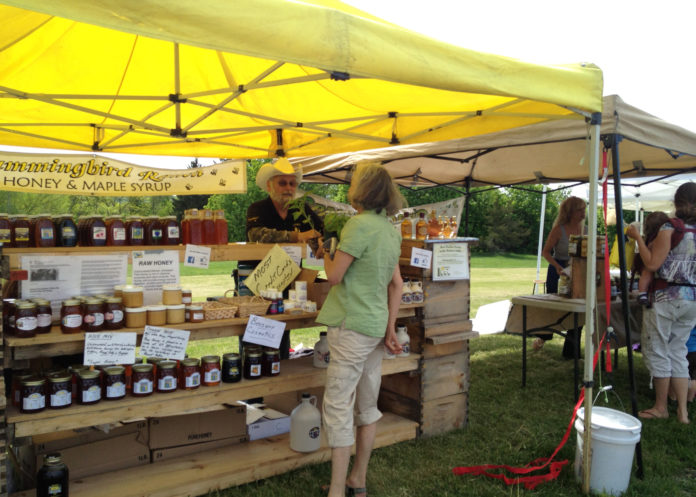 There's a brand-new new farmers' market in Milan, and it's already a hit.
According to market manager Charlie Godfrey, opening day on May 17 was a big success. "We had a little trouble with the wind, but a nice turnout," he said, adding that Bread and Bottle sold out their bread within the first hour and a half.
"Tom sold out, too," he said, referring to Tom Greene of Tom's Heritage Baked Goods and Jams. "He only had one quiche left."
Greene added, "We got a very good response from people; it was a very pleasant surprise." And he said his success continued in the second week as well, despite the challenge of a rainy day. "It's a hardy bunch here in Milan," he noted.
The market is open at Town Hall every Friday from 3pm to 7pm, rain or shine. On rainy days, the vendors move indoors to the basement of Milan's town hall, where there is plenty of room for all their wares and customers.
All told, there are about 11 vendors, including area favorites such as Tousey Winery, Spacey Tracey's pickles, and Amazing Real Live Food Company cheeses. Red Hook's Bread and Bottle sells artisanal breads, and Tom's Heritage Baked Goods and Jams offers quiches, pies, and jams. Hummingbird Ranch of Staatsburg has honey, maple syrup, and related products all created on their farm, and Living Edge Designs of Rhinebeck showcases their hand-crafted wooden cutting boards.
Ethel Barone, who farms on the border of Red Hook and Milan, will be selling eggs and produce, including rhubarb, spinach, kale, lettuce and napa cabbage. "We grow all our own stuff and we don't spray anything," she said.
Letti's Ice Cream, a brand new operation based in Red Hook and owned by Stephanie Fitzpatrick, is giving out free samples while they wait for the official permit to sell their product. Assorted sizes will be available in flavors that range from the standard chocolate, vanilla, and strawberry to pistachio, cheesecake, and oreo, all made from Hudson Valley Fresh milk.
Fresh fruit and baked goods are also provided by Wright's Farm, a five-generation family-owned operation located in Gardiner. Tammy Boylan, a member of the Wright family, said they grow apples, peaches, nectarines, plums, and cherries, as well as a variety of berries. Their stand also includes a selection of baked goods and jams. "We grow it, pick it, and bake it," she said.
Godfrey's Second Chance Farm in Milan is also represented and, according to Godfrey's wife, Kim, sells "everything you need to get ready for the weekend," including ground beef, steak, pork chops, a variety of sausages, fresh chickens, and more. Their tagline reads, "No hormones, steroids or additives…just meat!"
Godfrey said there could be more vendors added as the season continues, including Red Hook's Shoving Leopard Farm, which has just signed on to bring fresh flowers to the market.
For updates, visit the market's Facebook page: www.facebook.com/MilanFarmersMarket.
Facebook Comments