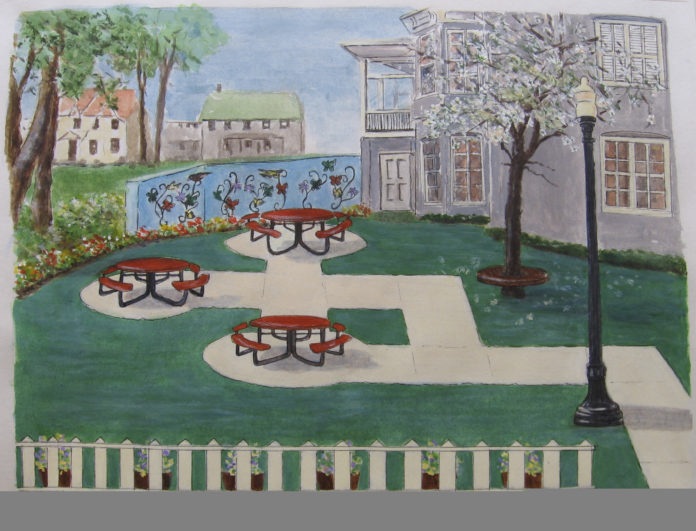 Libraries aren't just for learning, they're for growing also.
And The Friends of the Red Hook Public Library plan make that concept a reality, with their latest project: a Children's Learning Garden.
Located adjacent to the rear entrance of the Children's Library, at 7444 South Broadway in Red Hook, the 1,200 square foot garden will offer additional space that can be utilized six months of the year for outdoor crafts and educational programs. The Friends hope this will add a whole new dimension to children's outdoor learning experiences as well as offering library patrons a new place to read, relax and reflect.
Handicapped accessible via new walkways and seating and fenced off for safety, the area will offer an outdoor potting bench and sink, a minimum of three tables with seating and large planting barrels. The area will also be enhanced by a cheerful mural painted on the large retaining wall.
The garden initiative just received support from Ulster Savings Bank, via a $500 donation.
"The Children's Learning Garden is the latest example of the Library and the Friends of the Red Hook Public Library coming together to provide great learning experiences for Red Hook's youth and community at large," noted Patricia Pennisi, branch manager at Ulster Savings Bank's 7296 S. Broadway office. "We share their community-first spirit and are pleased to lend our support."
The Friends have now secured $12,000 towards the estimated $17,000 total cost of this project. You can donate by sending a check to: The Friends of the "Red Hook Public Library – Children's Garden," at 7444 South Broadway, Red Hook, N.Y. 12571.
For questions or more information, contact: Frank or Loretta at 845-758-0404 or Sandy at 845-757-3031.
Facebook Comments