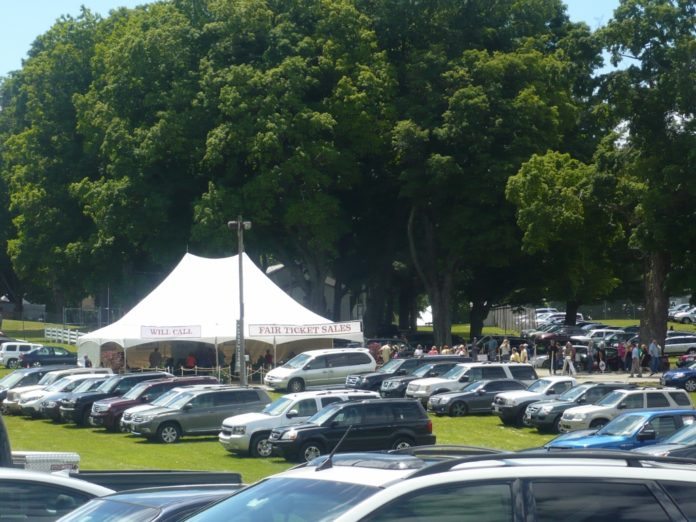 Although a new state bill now working its way through the Senate could potentially cause strife between fairgrounds and the villages they reside in, officials in Rhinebeck still plan to uphold local zoning laws instead.
As The Observer reported in April, Rhinebeck village officials have been working since last fall with representatives of the Dutchess County Agricultural Society, the non-profit that runs the Dutchess County Fairgrounds, to create a zoning code that would allow the village and fairgrounds to work together on zoning changes within the fairgrounds and for village-wide events.
The new zoning proposals came about in part because Village of Rhinebeck officials had difficulty working with the former fairgrounds manager, who left DCAS in 2012, according to Rhinebeck Village Mayor Jim Reardon. Village-wide events such as Chelsea Clinton's wedding have also caused problems which the new zoning is intended to mitigate.
But Reardon added that village officials then felt broadsided when they discovered that the pending state bill could exempt fairgrounds from local zoning regulations entirely.
"I think it's unfortunate that the state legislature feels a need to pass a law that is going to serve one particular interest instead of communities as a whole," he said.
Village Trustee Brant Neuneker said the most troubling paragraph in the bill is the last, which reads in part: "The provisions of any…local law or municipal ordinance…except an approval required to protect the safety, health and well-being of persons, shall not apply to any exhibition or entertainment held on the grounds of a town or county corporation…and the provisions of any…local law or municipal ordinance shall not be…applied to unreasonably prohibit or restrict any agricultural or horticultural corporation…from the construction, improvement, renovation, relocation or demolition of any…grounds, buildings and facilities."
Neuneker and Reardon believe the proposed state law is too vague, offers no protection for the local municipalities and gives fairgrounds too much leverage. Reardon told The Observer that the New York Conference of Mayors agreed and has sent a memorandum of opposition to the state legislature.
The bill "does not suggest that land use laws regarding fairgrounds be reasonable. It states that their grounds, buildings and facilities may not be 'unreasonably prohibited or restricted,' Neuneker told The Observer. "There is no use limitation whatsoever. Zoning laws list allowable uses and this one doesn't–it is woefully insufficient and dangerously overbroad."
Further, Reardon and Neuneker warn that ambiguity in the law could open up the zoning process to future litigation. "Because it is so ambiguous, it will be fodder for litigation," Neuneker predicted. "It will benefit neither fairgrounds owners nor municipalities."
"Albany needs to stay out of this," Reardon added. "If they do need to be involved, it needs to be as a mediator to bring both sides together."
By contrast, the local zoning change proposed by Rhinebeck would create a Fairgrounds District, which would allow the fairgrounds more control over non-agricultural events hosted there and create a process for approving zoning changes within the fairgrounds.
Fairgrounds General Manager Andy Imperati said he is in favor generally of the proposed state law but he is just as comfortable with the local one.
He and three directors from DCAS had worked with the village to create the new local zoning document in order to avoid lengthy approvals when they are needed.
"At this point, I can't get a building permit from the Village of Rhinebeck without going through the Zoning Board of Appeals, because [we're] a nonconforming use in a residential district," Imperati explained. Between the planning board and the zoning board of appeals, the process could take months for any project to be approved, he said.
"It's a pain in the neck for both sides," he added. "It's very convoluted."
According to Imperati, the current zoning changes have been through one public workshop in April, and DCAS and the village have worked through the questions raised and will be ready to present them to the public again this month. He hopes to see a finalized version become law in July or August.
"We're comfortable with [this local law] because we've had a hand in it," Imperati said. "We would like to honor the law the village is trying to pass and work within the guidelines."
He believes the law currently under review in Albany is a direct outcome of a lawsuit in Livingston County where a fairground and a village went to court over acceptable facility uses. The fairground lost the case and could only hold its annual fair and eventually went out of business and had to close.
"Lawmakers are trying to protect fairgrounds from [this situation] going forward," he said. "I'm in favor of [the law] in the sense that it would afford me some protection down the road," he added, noting the importance of non-fair events, such as the recent Country Living Fair, to justify the facility and bring in additional revenue. "I cannot maintain this facility on the county fair alone."
Imperati added, however, "Jim is afraid of the same things I'm afraid of. As time changes, people and positions change…it's a tough situation. [Lawsuits] are not where we want to go and that costs both sides money. I'd rather not even have to use [the state law]. I'd rather go with what we've created between us and try to abide by it as best we can and go forward from there."
"I'm a farm boy, I grew up on a dairy farm," Reardon added. "I have a vision for this fairground to become a regional agricultural education center. We're not trying to restrict them in any way, but we all have to be able to live in this community. [The fair] is a big part of the economic success of this community and we recognize that,"
The state bill was passed in the Assembly in February with only one "No" vote and is now in the Senate Agriculture Committee.
A representative from Assemblyman Kevin Cahill's office said that Cahill was not a co-sponsor of the bill but did vote in favor of it. She said State Senator Terry Gipson has "the lead" on this issue now that the bill is in the Senate and added that Cahill "will continue to examine the legislation and, if it is signed into law, make sure the views of our constituents are heard."
Gipson told The Observer that, in his view, "The fair is our premier source for promoting agriculture in Dutchess County and provides a huge boost to the local economy. I am deeply committed to the continuation of this tradition and the future prosperity of the fair.
[The bill] …is a one-size-fits-all approach, and I have serious concerns about its current language. As currently written, [it] opens the door for costly and unnecessary litigation between county fairs and local governments…I would encourage that these issues continue to be worked out on the local level so that the unique needs of every fair and every community can be met."
Facebook Comments