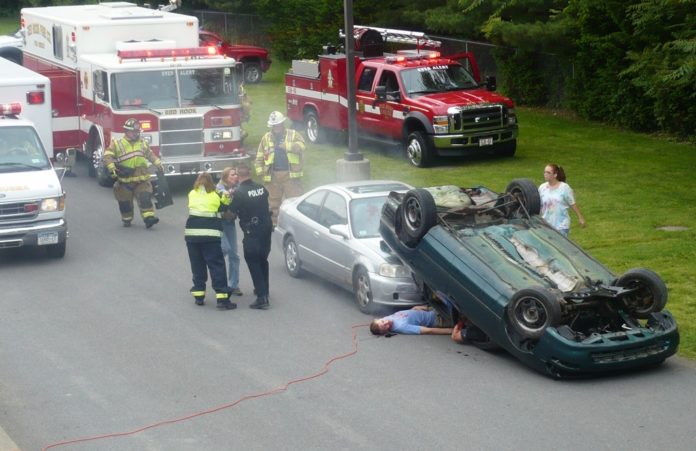 The smashed cars stacked at the entrance to Red Hook High School are a grisly reminder for passersby of the dangers of driving drunk. But Red Hook High School seniors got a more dramatic lesson June 6 when school staff, volunteers, and law enforcement officers teamed up to provide a real-world learning experience.
First, Jonathan Mueller and his father, John, spoke to the entire class of seniors gathered in the high school gym about their first-hand experience with this issue. Jonathan, a graduate of Arlington High School, was hit by a drunk driver in 1998 at age 18 and suffered a traumatic brain injury as a result. A 20-minute video told Jonathan's story: his promising future before the crash and his subsequent long road to healing. Today Jonathan leads a relatively independent life, although he has no short-term memory, partial blindness in both eyes, and spasticity on his left side. After father and son spoke briefly about their life before and after the accident, they answered questions from the students.
The gym was utterly silent as the students listened, all eyes trained on Jonathan, whose serious responses were peppered with jokes. "I get frustrated, but I don't let it bring me down," he told the students when asked how he keeps his sense of humor.
His father wrapped up the presentation by reminding the students to "think of Jonathan" when deciding whether to go home from a party with a driver who has used drugs or alcohol.
"Studies show that if you connect [the consequences of these actions] with someone [specific], you'll make the right decision. It's just not worth it," he said.
As soon as the Muellers finished speaking, a police officer's radio began to play a dispatch alerting emergency personnel to a car crash at the high school. The students were herded out to the football field and climbed the risers to witness the action below.
Two cars, one overturned on the other, appeared to have crashed on the roadway behind the risers. At least one bleeding victim was visible underneath the wreckage, and several more were partially visible through the car windows.
Within moments, sirens rang out as Red Hook and Tivoli fire fighters, Red Hook police, and Northern Dutchess paramedics descended on the scene and proceeded to assess the damage and rescue the "victims" as best they could. By the end, 25 minutes later, the jaws of life had been used on one vehicle and a local funeral home had come with a hearse to take at least one body away.
This event is organized annually by the high school's Students Against Destructive Decisions chapter and administrators, according to SADD co-advisors Jill Troychock, a high school science teacher, and Sarah Burrows, who works at the high school as a Student Assistance Counselor from The Council on Addiction and Prevention and Education of Dutchess County. The main conclusion Burrows hoped students would reach is "to absolutely not use substances and drive. We'd rather they not use substances at all."
She also hoped the demonstration would impact students' decisions about riding with people they suspect to be under the influence. "[Students] are afraid to call their parents and we want them to think, will they be more upset if you get in an accident or if you need a ride?" she said.
Walking back to the gym, students appeared to be taking the lesson seriously.
"I think it's wonderful that the school does this every year, it's really important," Laura Hegstetter told The Observer. Caitlin Swanson agreed, adding, "I just hope people take it seriously and know that it really does affect lives."
Andrew Pope reflected that as a whole, the presentation "was a moving experience and it will teach me to think twice." Jesse Rolfe found Jonathan Mueller's talk to be the most effective portion of the morning. "It was especially powerful because he wasn't a drunk driver, he hadn't done anything wrong," he said.
The session ended back in the gym where local attorney Michael Pollok explained the serious legal consequences for drunk drivers, including those who are caught with underage passengers. "I'm here to warn you because I see this ruin people's lives," he told the students. "Not just the victims of the collision."
Emergency services personnel had the last word for the morning's lesson.
"We all have one goal in mind, to safely get you from where you are to where you need to be," said a volunteer with Northern Dutchess Paramedics.
"If we can save just one person, it will be worth it," added Cheryl Hilbrandt, Captain of Tivoli Rescue Squad and coordinator of the emergency portion of the program.
With that, Principal Roy Paisley reminded the students to be safe, especially around Prom night (which was held June 15).
Facebook Comments