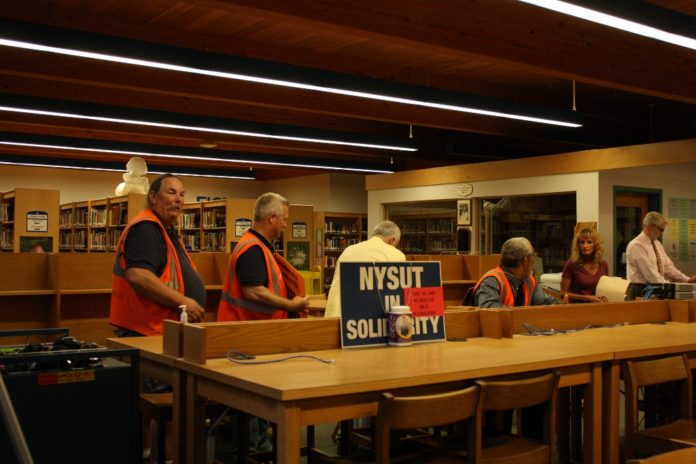 About 35 school bus drivers, monitors, Teamsters union members, and representatives of the New York State United Teachers union urged A&E/Durham School Services to accept third-party arbitration of their contract disputes, during the public comment section of the Rhinebeck School Board meeting June 11.
A&E/Durham contracts with the school district for "home-to-school, special needs, and field trip" transportation, involving more than 700 students..
Adrian Huff, principal officer of Teamsters Local 445, which represents the bus drivers and monitors, pushed parents and the school board to encourage the arbitration.
"Durham continues to tell the school districts and the general public that the union is being unreasonable in negotiations. If they truly believe that, they should have no problem accepting our offer to appear before an arbitrator and demonstrate how reasonable they are," Huff said.
The union has gone on strike on two separate occasions, a one-day strike in April and a two-day strike in May. Service for Rhinebeck students was interrupted on both occasions.
At the meeting, Rhinebeck bus driver Eva Young described working conditions at Durham as unsafe, with low wages, constant employee turnover, and lax background checks.
The 11-year veteran said she is bordering the poverty line. "On the way in here I saw a nickel, and I picked it up for my son's piggyback," Young said at the meeting.
The employee turnover rate hovers around 40 percent, Huff added, noting, "It's not unusual to see someone come in today and not tomorrow."
Young went on to explain that many special need students become attached to drivers and monitors and the constant turnover was harming these relationships.
The Teamsters union entered negotiations with Durham over a year ago when their contract was set to expire in September 2012. Huff said the union is looking for better wages and a fairer pay scale for drivers and monitors, more thorough background checks for employees, and GPS systems for drivers.
In an email to The Observer, Durham spokeswoman Carina Noble said the company was rejecting the arbitration offer to let the National Labor Relations Board process Durham's Poughkeepsie and Rhinebeck employees' decertification petition, which was filed to remove the Teamsters as their bargaining representatives.
Durham also services Spackenkill Schools and Dutchess BOCES. In a news release, the Teamsters stated that Durham has spent approximately $800,000 for substitute workers in anticipation of a strike.
"That would more than cover what we're asking for," said Huff in an interview with The Observer.
Facebook Comments