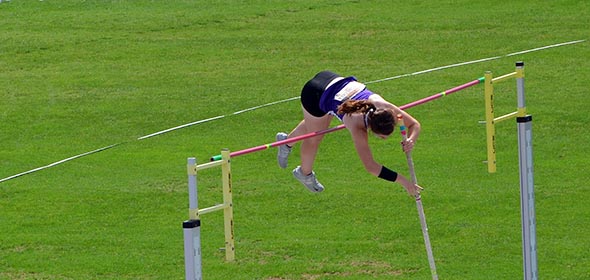 Grace Weisbecker reigns supreme. Well, almost supreme.
Red Hook's pole vault maestro came in second with a vault of 11 feet, 10 and ¾ inches in the emerging elite pole vault competition at the Outdoor Nationals held in Greensboro, N.C.
Weisbecker also won the New York State Division II title with a vault of 12 feet and 3 inches, and competed in the 100m hurdles, finishing sixth.
Weisbecker was the only area athlete competing at the Outdoor Nationals June 12. But she wasn't the only Red Hook or Rhinebeck athlete competing at the state competition, which was held June 8 at Middletown's Faller Field. Rhinebeck's Brandt Slayton ran in the boys 400 m dash, and Rhinebeck's relay team competed in the 4 by 400m relay.
Slayton, at the end of the track and field regular season, was 10th in Section IX boys competition in the 200m dash, with a time of 22.94, and eighth in the 400m with a time of 50.34. Dante Pentepent of Rhinebeck came in sixth in the 1600m with a time of 4:26.24. Red Hook's Jed Sarabia was 10th in the section in discus, with a top distance of 132' 5".
In addition to her winning pole vault, Weisbecker came in eighth in Section IX girls competition in the 200m with a time of 26.34 and fifth in the 100m hurdles with 15.35. Red Hook's Caitlin Schmitz came in fifth in the long jump with a distance of 16' 10." Brianna Schwartz of Rhinebeck came in eighth in the section in shot put with a distance of 32' 9.5", and Barr Lavi Romer of Rhinebeck finished 10th overall in the pentathlon with 2,030 points.
Facebook Comments