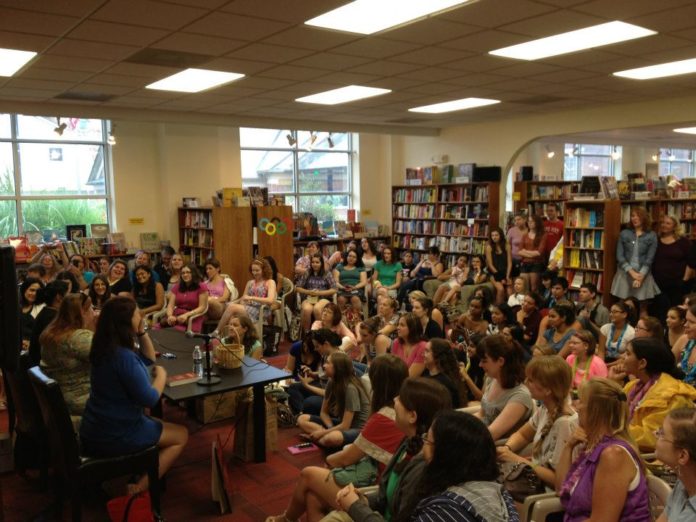 Young local readers between 8 and 12 years old can now join a very special group that will be embarking on amazing literary adventures each month at Oblong Books in the heart of Rhinebeck.
Suzanna Hermans, co-owner of Oblong, said she is passionate about the introduction and encouragement of reading for youth.
"We started a series for teens at our store back in September of 2010 — the "Hudson Valley YA Society" — and we have built it into a fantastic monthly event. We're getting anywhere from 50 to 200 attendees in their teens and 20's, and they're so enthusiastic about YA (young adult) literature and the authors that participate in the panel discussions," she said.
She and bookseller Jennifer Laughran decided to develop a similar series for younger readers, approximately 8 – 12 years of age, and give it the enticing name of "League of Extraordinary Readers."
"We don't do a lot of events for this age group," Suzanna explained, "so it may take a little time to build the audience. We have to make parents aware of the events, and we're doing that by reaching out to schools and organizations such as the PTA. We know parents are always looking for interesting summer activities for their kids, and we have a great line-up planned for the summer kick-off and into the fall."
One of the featured authors on Sat., June 22, will be Ann M. Martin, who wrote the iconic and beloved "The Baby-Sitters Club" series, which has sold over 176 million copies and inspired a generation of young readers. The July events will all have a spy/mystery theme, and the author panel will include Michael Buckley ("Sisters Grimm" and "NERDS"). On Aug. 31, all attendees will have the added fun of celebrating the book launch party for "Sleeping Beauty's Daughters" by Diane Zahler.
"I like to do theme events whenever we can make that work," Suzanna said. "There is always a prize drawing for a signed book or a gift certificate, we provide snacks, and we always give away advance reader copies of books that haven't been published yet. Everyone likes the idea of reading something before anyone else has, and every kid gets to bring something home whether they can afford to buy a book or not. Hopefully, what we've planned will keep them coming back. From babies to teenagers, we want to keep people reading books."
Helen Seslowsky, the events coordinator for Oblong Books, is working closely with Suzanna to ensure the success of the "League" by arranging for the various author visits .
"Publishers send authors to Rhinebeck — and specifically to Oblong. So as a community we feel we need to support that," Helen said. "The more support we show for programs "League" and "Hudson Valley YA"– which are not just great fun but effective tools to promote literacy that is so vital to our nation's kids — the more authors will be sent here to provide that resource to the community."
Helen added, "Pre-teen youth really need to see reading as fun as opposed to homework. That's what builds a lifelong reader."
Suzanna recently played host to the fourth grade class of Chancellor Livingston Elementary School in Rhinebeck.. "I was able to tell them about the "League of Extraordinary Readers" series, and they were really interested," she recalled. "I impressed on them that this was a chance to meet authors, people that you would never get to meet otherwise, and maybe get to discover your new favorite book or meet one of your all-time favorite authors. I'm really eager to get this started and to connect with the younger kids, hopefully get them as excited about books as I am."
Oblong Books and Music
6422 Montgomery Street, Rhinebeck
845-876-0500
www.oblongbooks.com
info@oblongbooks.com
RSVPs via email are requested in anticipation of the large attendance at the monthly events: rsvp@oblongbooks.com, or Facebook: www.facebook.com/oblongbooks/events
Facebook Comments