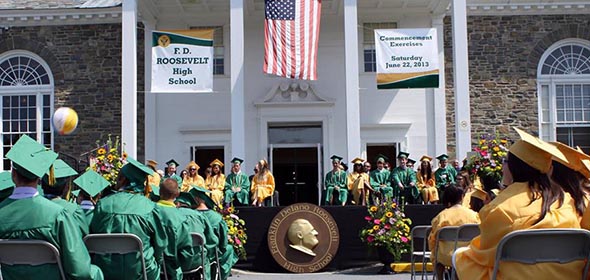 The beach balls had already flown through the sea of green and yellow robes by the time Jonah Berkowitz gave the valedictory to Franklin D. Roosevelt High School's 338 graduates and hundreds of spectators.
"Graduation… it is what brings us together!" Berkowitz said in an adaptation of the famous "Princess Bride" marriage scene.
With the temperature in the mid-80s, ties were loosened, cups full of ice cubes were handed out to students, and anything and everything was fashioned into a fan for the commencement ceremonies at Haviland Middle School June 22. It was the first time in 48 years that the graduation was held at what had been the original Hyde Park high school before it was converted into a middle school.
In her presentation of the class of 2013, Greer Fischer, the superintendent of schools, compared the FDR yearbook of the graduating class with that of the class of 1965 ¬–- the last class to walk at the site of Haviland. Although organizations like the Baton Twirlers and Radio Club have fallen by the wayside, clubs like F.D.R. Live, the school's Friday morning news show, have come to fruition.
While the usual "hard-work-pays-off" type of advice was handed out, the graduates also got some quirky bits of advice from some of the speechmakers.
Keynote speaker and business education teacher Margaret Schimmelpfennig (more affectionately known as Miss Shimm) waxed poetic on the 70/20/10 money management plan (70 percent of income for living expenses, 20 percent to savings, and 10 percent to debt and loans), the importance of flossing, and perseverance. Berkowitz urged the grads to take full advantage of the bibliography generator Easybib, and salutatorian Kristen Cole spoke about the importance of seizing second chances.
Cole is on her way to R.P.I., majoring in undeclared engineering. During her time at FDR, she was a volleyball captain, gymnastics instructor, and a Girl Scout. She also volunteered at Poughkeepsie's Lunchbox, a program that provides six hot midday meals a week through Dutchess Outreach.
Berkowitz, the No. 1 singles player on the school's tennis team, took his talents to the stage this year in the school's performance of the musical "Damn Yankees." Berkowitz's mother, Mirriam, said he chose not to play tennis at Brown University, where he will start in the fall with an undeclared major, because of the amount of time students have to commit to a Division I sport. He plans to play club tennis and continue his mushroom business, which he picked up in 2008 from his mother, who sold them to local markets and restaurants.
Both Berkowitz and Cole summed up for the graduates their next steps in life.
Cole cited "The Great Gatsby," saying, "For what it's worth; it's never too late, or in my case, too early to be whoever you want to be."
Berkowitz turned to the film "Dead Poets Society," saying, "Because we are food for worms, lads. Because, believe it or not, each and every one of us in this room is one day going to stop breathing, turn cold and die."
Facebook Comments