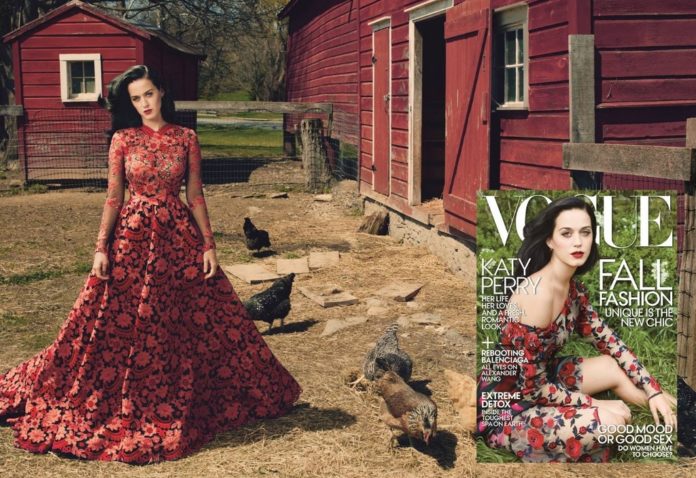 Seems Red Hook is now in vogue.
The McKeon Farm on Crestwood Road served as the setting for superstar Katy Perry in her recent Vogue photo shoot.
Perry, a nine-time Grammy-nominated recording artist, is the subject of the magazine's July cover story (on newsstands June 25), and the photos taken at the shoot show her modeling dresses by designers including Valentino and Dolce & Gabbana, all in a rustic setting that shows farm buildings and even chickens.
The photos were taken at McKeon Farms by Annie Leibovitz, the portrait photographer known for her portrayals of cultural icons since the 1970s. Leibovitz has done 37 Vogue covers since her first in 1971, according to Vogue.com. This was Perry's first cover for the magazine.
According to Robert McKeon, who co-owns McKeon Farms with his wife, Elisabeth, the shoot took place over a three-day period in late April. He said that Scenic Hudson, the regional land preservation non-profit, told him they had put his farm on "a list of Hudson Valley farms" for Leibovitz to consider.
"They apparently were looking for a working farm with animals, barns and rolling hills," he said.
Leibovitz told The Observer that she has been working with Scenic Hudson as part of their 50th anniversary celebration.
"The project has me spending a lot of time in the Hudson Valley — exploring new places and returning to old ones. The McKeon Farm came recommended to me by…Scenic Hudson. When I saw pictures of the farm, I knew it was perfect — and Robert and his family are wonderful," Leibovitz said.
McKeon added, "We're grateful to have had this opportunity. It confirms the importance of the efforts by our local preservation heroes: Scenic Hudson, Dutchess Land Conservancy, Winnakee Land Trust and, of course, the people of the Hudson Valley (and Red Hook in particular) to keep this place as wonderful as we found it."
In 2009, Scenic Hudson preserved 378 acres of McKeon's farm, which are now held in a conservation easement. According to McKeon, the farm consists of a grass-fed beef cattle operation, an equine facility, goats, llamas, chickens, and an orchard. The McKeons sell their beef privately and sell mini-herds to young farmers who are just getting started.
McKeon said that his three daughters were very excited to meet Katy Perry, though he was just as excited to meet Liebovitz. "It was especially meaningful for me to meet her since my mother is a photographer. Annie is as genuine a person and an artist as you will ever meet, and Katy, who is just naturally gorgeous, also has a wonderful sense of humor," McKeon said.
"All of the folks from Vogue, and the hair and makeup people, as well as the folks from Annie's studio and Katy's people, were just the nicest and so complimentary about the farm and the area that we get to call home," McKeon said.
To read the full interview with Perry and see more pictures from the shoot, visit www.vogue.com.
Facebook Comments