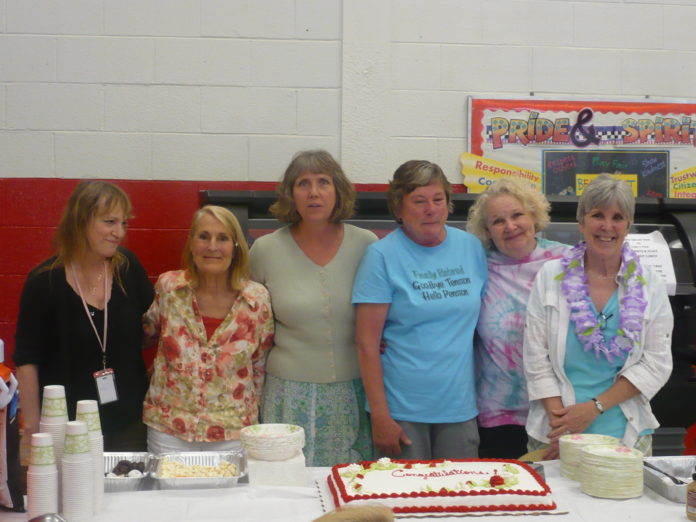 Seven special teachers and a treasured school secretary have just retired from the Red Hook and Rhinebeck school districts, with a collective –and amazing– record of 245 years between them.
The schools honored their retirees at Rhinebeck's Board of Education meeting June 11 and at a special luncheon June 20 at Red Hook's Mill Road Intermediate School, hosted by the Red Hook Faculty Association.
Here's a brief look at those who are retiring and what they did:
Irene Romano taught kindergarten, first grade, third grade and fourth grade during her 41-year career in Red Hook. Asked what she will miss most, Romano quickly replied, "The kids. Oh yeah, without a doubt. The kids are what it's all about. And I'll miss the camaraderie with the friends that I worked with everyday. It's like a family."
Romano told The Observer that during her tenure, she taught 22 children of former students and one grandchild of a former student.
In retirement, Romano plans do a lot of traveling with her family and to spend time with her grandchildren.
Math teacher Gail Sloane has been with the Rhinebeck school district for 39 years. She plans to become a snowbird, headed for Florida, in her retirement.
Asked why she got into education, she replied, "Don't ask me hard questions." A colleague jumped in to add that Sloane was the tough teacher who students look back on fondly as one of the educators who really pushed them to learn.
Marie Barnes taught special education in Red Hook for 32 years, instructing at each level: elementary, middle school, and high school.
"I worked with students with different learning challenges in small group settings and in the classroom. The last three years, I developed the Flex Program for students with more significant challenges. This class allows us to keep students in the district and provide them with the academic and social support while integrating them in school activities as much as possible," Barnes said.
Barnes said she would miss the students and staff at the Mill Road school, where she most recently taught. She added, "I'll miss coming to Red Hook from Kingston, crossing the magnificent Hudson River daily and watching the seasons change in and around Red Hook."
Barnes looks forward to spending more time with her adult children and "do some long-awaited home renovations, volunteer with adult literacy and travel with my husband."
"I have been fortunate to pick a career at the age of 18 that I have loved (most of the time). It has been a rewarding career," she added.
Harriet Kudlo taught kindergarten in Red Hook for 25 years. "I was blessed to work with sharing and caring colleagues. I have to pay tribute to Patti Sherman, the principal when I started, and the school board at that time who hired me and started me on this fabulous journey," she said.
Asked what she is looking forward to in retirement, Kudlo said, "Everything. I love life and I want to get my hands into every pie I can."
Lydia Cordier taught special education in Red Hook for 23 years, first in the resource room and then co-teaching in the inclusive teaching program. Cordier said she was inspired to teach because she "had a rather miserable start in elementary school."
"For the first six years of my education I was a nervous insomniac…My goal was to help students have a more positive start than I had," she said.
"Mill Road has always been a wonderful, challenging and creative school to work at. I will miss the faculty as well as the students I have had," she noted, adding "but I guess that I will miss our garden program the most."
Asked what she looks forward to in retirement, Cordier said "Throwing my clock in the garbage and just having a few months without a plan. After that I want to do some traveling and help out with the garden at Mill Road."
Denise Steerman, who taught at Mill Road Elementary for 26 years, and Helvia Tauselt, a reading specialist for 39 years, did not want to be profiled. However, Steerman did mention that parents and former students, even some who are now in college, threw her a party the week before school ended. "It was really personal," she said. "I don't do retirement parties, but it was really nice."
Rhinebeck Board of Education President Deirdre Burns described Candy Potter as "the face of the school." The Special Education Secretary put in 20 years of service to the school and now plans to move North Carolina to be closer to her daughter and grandchildren.
Facebook Comments