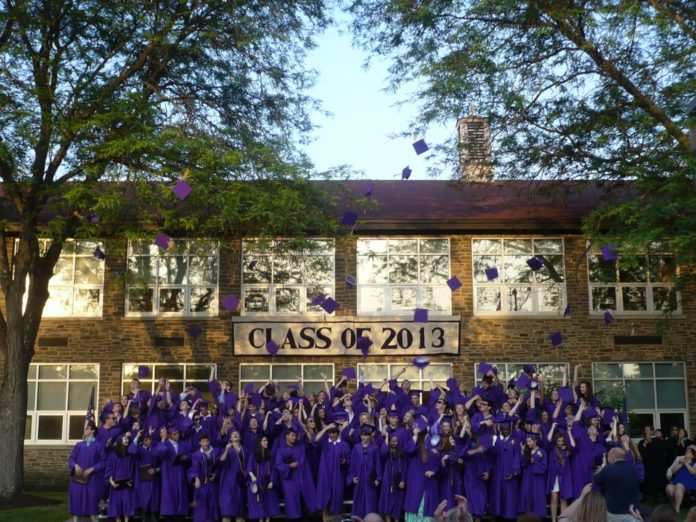 It was a beautiful evening for a graduation.
The Rhinebeck High School ceremony June 22 was held out on the front lawn, where most of the crowd could be shaded by trees and where the school building in the background reminded the seniors of what they were leaving behind.
Principal Ed Davenport advised all 98 graduates to remember the friends they made in high school, their teachers, their school, and their families, when they are trying to figure out who they are in the future. "Remember where you come from," he said, before offering congratulations on the part of the faculty.
"You are to be commended for your hard work, your camaraderie, your independence, your spirit of service to others, and your sense of community," Superintendent Joseph Phelan told the graduates.
"However, despite all that you have accomplished, there is much more work and education ahead of you," he continued, reminding students that future learning experiences await them whether in college, technical training or the workforce.
Deirdre Burns, president of the Board of Education, drew the inevitable connection between the last time the cicadas emerged — when the Class of 2013 were just toddlers "filled with curiosity and energy" 17 years ago — and the milestone marked by this graduation: the cicadas have emerged again and the seniors are again full of anticipation for their next steps.
She also had some advice for the graduates. "Take time to consider the lessons you have learned about what makes this community special," she said. "Honor individuality and creativity while forging and sustaining the human connections that are essential for strong community."
Salutatorian Alex Newman pondered the way many aspects of school, such as a difficult class or a sports season, can seem to take a long time and then suddenly be over. "At some point in the last few weeks, you started to feel time slip away and now you can't believe how much you let pass by," he told his classmates. "We use time as a measuring tool, nothing more. We constantly count away the seconds, minutes, hours, and years…neglecting the memories that they carry."
His advice to fellow graduates: "Don't use time to measure, use time to treasure."
An ensemble of senior class members (David Britton, David Chernak, Andrew Chestney, Catherine Ely, Matthew Fraczek-Syczyk, Carolyn Goldstone, Lauren Heller, Aaron Hoffman, Elliot Hoffman, Cesar Monroy-Jimenez, Francisco Monroy-Jiminez, and Alex Newman) performed a lively rendition of "Soundtracks and Come Backs" a popular song by the South African music group Goldfish. The band included guitars, drums, brass, strings and woodwinds. "No matter how much you wanna leave, you could come back," the students chanted in the chorus.
Next, members of the senior class presented Principal Davenport with a new microwave to replace one that was damaged at the high school in an incident that caused a fire drill in spring. "To honor the memory of that morning and in hopes that no future senior will ever again set the microwave on 20 minutes to warm a snack and then leave for their next class before removing that snack from the microwave," the class advisor Linda Sutherland said.
The guest speaker was Victor Britton, a physics teacher at the high school and the father of senior David Britton. "After 13 years of education, you are finally feeling something big. You are on the cusp of the largest single change you have experienced…it is a strange but exhilarating feeling," he said, likening it to being on a roller coaster that reaches the top of the first big drop.
He told the graduates about how many small things over time can add up to a larger whole, a principle in physics known as "superposition."
"In life, all of our decisions and deeds add together…life's greatest victories are based on countless small things we do…Do sweat the small stuff," he said.
"A fantastic day, a great career, a great relationship, a great son," he added, pausing slightly, "a great daughter, a fantastic mom or dad is nothing more than the superposition of tiny victories, laughs, expressions of care, and love. Many small things add up together to a large sum."
As he concluded, he compared looking into the future with looking into the vast night sky and "feeling that the world and universe is so, so large." He reminded the seniors that their parents, grandparents and ancestors had looked into the same sky before their first steps of independence. "Long journeys are made of small steps. Little things add up to a big success. Your new first step is upon you, and I assure you, you are ready," he concluded.
Nine students (David Britton, Andrew Chardavoine, Andrew Chestney, Victoria Cordisco, Curtis Dalton, Marta Fuerst, Alexandra Gay, Lauren Heller, and Bailey Lyons) sang the alma mater to piano accompaniment, and then the scholarships and awards for the senior class were presented. During the presentation, a member of the audience collapsed but did not lose consciousness and eventually Northern Dutchess Paramedics were called. The situation was handled quietly and efficiently with little disturbance to the ceremony.
The final speaker was the valedictorian, Lauren Heller. "The advice I would like to offer my fellow graduates is to keep learning. It doesn't have to be quantum thermodynamics and it doesn't have to come from a text book…Discover the tasks that make you lose track of time and build a future that others can learn from," she said.
With that, it was time for handing out diplomas. When that was accomplished, the graduates moved the tassels on their caps from one side to the other and tossed their caps in the air.
Facebook Comments