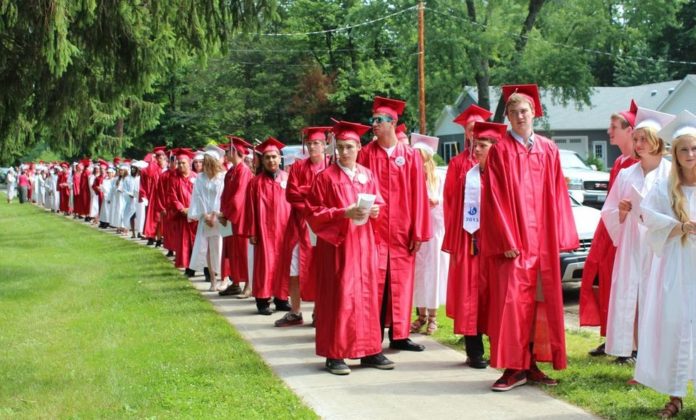 Quietly lining up to proceed down Linden Avenue Middle School's grassy aisle, as the heat of the morning grew heavy, the Class of 2013 prepared to become the 50th senior class to graduate from Red Hook High School.
Before family, friends and faculty — and amidst the steady rumble of their other guests, the cicadas — 162 red- and white-clad seniors took their seats June 22 for the last time as high school students.
"It's one of the passages of life you have to go through," said Ronald Griffin, who traveled from North Carolina along with his wife, Carol, to watch their grandson, Dakota Griffin, and his fellow classmates complete an important leg of life's journey.
The national anthem, led by senior Cara Search, was sung with great feeling; it was followed by the senior chorus sweetly singing a rendition of their alma mater. Both received lively rounds of applause.
Salutatorian Ashley Pica, who quipped that she "wanted to draw a few tears," succeeded instead in drawing mostly laughs – and a sense of all that the graduating class had shared during their four years together. What really matters, Pica said, are "the memories we have created."
Recounting how as a kindergartener she knew she wanted to be a seahorse, Pica said, "I am not sad that I have remained in my human form – because I now have new dreams."
After looking to others for inspiration and courage while preparing her speech, including Confucius, Dr. Seuss and Lao Tzu, Pica settled on something that was "a direct reflection" of herself, by memorializing her classmates in a rhyming poem written in their honor.
"Together our class has talent, integrity and heart. But this year is over and soon we must part," her poem said.
The senior chorus ended their contribution with a rendition of Sam Cooke's "Wonderful World," in a vocal arrangement by members of the AP Music Theory class.
Valedictorian Kathleen Quinn then stood before her fellow students, and urged them not to focus on acquiring material wealth, but instead "focus on who you are going to be." Quinn said, "Too often we are focused on reaching success, rather than focusing on being a better person."
Quinn gave her classmates credit for already accomplishing so much — from sports, to music to academic milestones. "Though we attended a relatively small high school, this did not affect the size of our achievements," Quinn said. "With all of our talents, we can make the world a better place to live in."
Referencing the highs and lows of high school, Quinn advised the graduates to let their failures inspire them to persevere for years to come. "You do not have to make a large difference, but I urge you to make a small difference," she said.
Superintendent of Schools Paul Finch followed Quinn's speech by asking the class to think more "deeply."
"Many of us have become accustomed to the inequities in our society," Finch said. "Go out into the world and make a conscious effort to nurture hope among your fellow human beings."
Echoing the personal and emotional theme of the morning, Board of Education President Kelly Mosher told the graduating seniors, "At the end of the day, what will matter most in your lives will be your relationships."
As the members of the Red Hook Class of 2013 walked on stage to receive their diplomas, some waited for friends, arms outstretched, to hold hands for the short walk back to their seats.
Then, caps were tossed in the air, and the sound of bagpipes, played by teacher Michael McCrudden, led the graduates away toward their next great ventures.
Facebook Comments