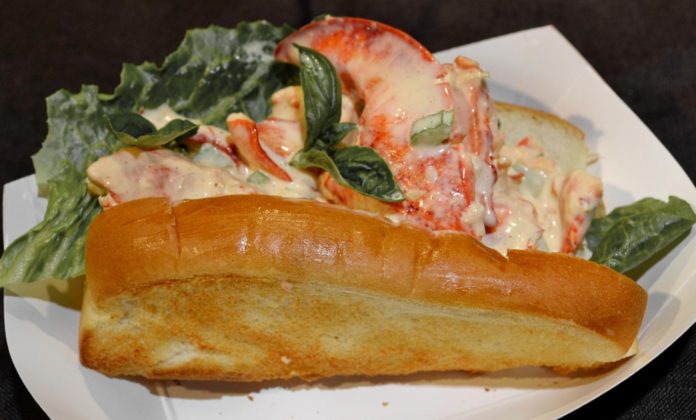 The Tasting Room, on a three-acre country setting on Route 9G about a mile north of Rhinebeck Village, has only been open for private parties, intimate dinners, and scrumptious lunches-to-go since last April, but chef/owner Daniel Gendron has cooked up a solid culinary reputation in the Hudson Valley for quite some time.
Gendron was raised in Japan, graduated from the Culinary Institute of America in Hyde Park in 1981, worked in restaurants throughout New York City, and returned to become Chef at the former Valeur Mansion on the Hudson in Rhinebeck. In 1998, he started Gendron Catering (also operating from the present location) and in 2003 received Certified Executive Chef status through The American Culinary Federation. Dan's company motto — "An Explosion of Flavor and a Riot of Colors" — directly reflects his high energy and ever-flowing creativity.
"I'm always pushing the envelope for myself," he explained. The years he spent in Asia definitely influenced his attitude towards preparation and presentation of food. "In Southeast Asia, not just Japan, there is a much more simplified, macrobiotic approach to cuisine, which has been around a very long time. I'm glad Americans want to know where their food is coming from and are now embracing the farm-to-table concept, because that's what I offer in all my menus," he said.
Even his herbs come from just outside in the garden.
At first glance, The Tasting Room seems too small for everything Dan has to offer, but he personally designed the rustic Italian room to be cozy and welcoming. "I know what I need as a chef, and I designed this so I can dance with my food rather than make it look like work," he said.
From all seats, patrons have a clear view of the kitchen and can watch Dan create his special potato salad with Feather Ridge Farm eggs or the popular Korean dish known as Bi Bim Bap. Shabu Shabu is a traditional Japanese hot pot dish cooked right at your table.
Dan loves the idea of offering fun, family-oriented meals as much as quiet romantic dinners. "Soon I'm going to be offering Ethiopian food," he said. "Iinjera flatbread pancakes are dipped in a traditional goat stew, and you eat with your fingers."
Dan added, "When people call ahead to make reservations, I ask, 'What do you want to eat? I can cook anything.' This idea is totally different as a restaurant."
Always ready to offer something new, Dan is planning Oktoberfest, and he will have the assistance of friend and colleague Master Chef Fritz Sonnenchmidt to make weisswurst sausage, which will be served with German mustard and freshly made spaetzle noodles.
"We're in Rhinebeck, we might as well serve something German!" Dan said.
Harvest Farm Dinners are also something to look forward to, and on the website www.gendroncatering.com details can be found under Shindigs at the Tasting Room. Desserts, such as the fresh berry or apple crisp, almond tart, and Callebaut double chocolate brownie, are staples, but Dan also seeks out other products being made locally, such as the complement of Jane's lavender ice cream.
He summed up how he would like the public to think of the Tasting Room: "It's a small, intimate, and affordable restaurant, teasing out the charms of local ingredients." Walk-ins are welcome, but reservations are recommended for the specialty menus.
The Tasting Room and Gendron's Catering
3767 Route 9G, Rhinebeck
Open 7 days – Call for hours, reservations recommended, patrons asked to bring their own alcoholic beverages
845-876-4480
www.gendroncatering.com daniel@gendroncatering.com
Facebook Comments