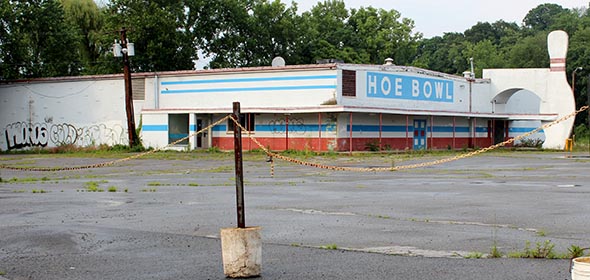 The Hyde Park Planning Board is working through the plans to turn the former Hyde Park Hoe Bowl on Violet Avenue into an assisted living facility.
James Rogers, who owns Crystal House, an adult home in Dover Plains for disabled veterans, plans to open the new facility, hopefully by next spring.
The facility, if approved, would house 76 seniors, aged 62 and up with Medicare. Rogers said there is a great need for affordable assisted living. "There is no place for the elderly with low income to go," he said.
He also projected that the facility could add approximately 40 new jobs in the town.
The facility, to be called the Hyde Park Assisted Living Facility will be for-profit, which would add to the town's tax revenue. Rogers has not yet looked into what the property taxes would be. He also did not have an estimate for the building's renovations but said it would be a "fair amount."
The architect overseeing the project, Carlo Mazzarelli, said a budget estimate is in the works..
Under the proposal, sidewalks along the Route 9G side of the building are planned as well as extensive landscaping to scale back the parking lot to about 40 percent of its current size of 132 parking spots. The bowling alley sits on more than five acres.
Mazzarelli intends to make the 26,000 sq ft building as "green" as possible by using guidelines from the U.S. Green Building Council's Leadership in Energy & Environmental Design, a program that rates buildings' environmental friendliness.
The giant bowling pin in the front would be removed, but the wood from the bowling lanes is planned for use in the main hallways in the facility.
Mazzarelli predicted that renovations could start as early as October and take nine months to complete if everything goes according to plan.
"Everything is actually progressing smoothly," he said, before adding, "Knock on wood."
The plans drew high praise at the Hyde Park Planning Board meeting on June 17. "I think it is also a wonderful re-use for the site," said board member Anne Dexter.
The site plan needs to be approved by the Dutchess County Planning Board, go through a public forum, and then finally be approved by the Planning Board.
The Hyde Park Hoe Bowl was the second bowling alley Bob Hoe opened in the 1950s. The alley burned down later in the decade and was rebuilt between 1960 and the following year. It closed about five years ago, according to Bob's daughter, Diane Hoe, who took over the business from her father. Popularity was waning and another Hoe center was only minutes away in the Town of Poughkeepsie.
Diane Hoe, who is selling the site to Rogers, is optimistic about the building's possible re-invention. "It's a wonderful use of the property," she said.
Facebook Comments