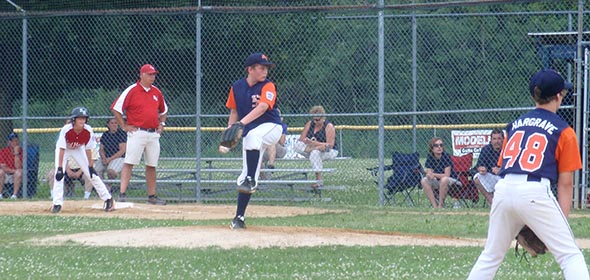 Playing at Hyde Park's Fallkill County Park, Red Hook's little league tournament team decimated the opposition July 2 in an 8-0 routing, orchestrated by pitcher James Flood.
The game opened with two scoreless innings, with Red Hook hitting lobs to the Hyde Park's adept outfield or grounders that got sent to home, and Flood responding with a perfectly pitched second inning.
The third inning was a different matter entirely, Flood struck out two batters and got the third out at first. At bat, Red Hook quickly accumulated two outs, after Caspian Packard hit a grounder to third and was tagged out at first, and Joe Garcia, Red Hook's ace hitter, struck out. Then, when it seemed Red Hook had met its match in Hyde Park, James Flood crushed a pitch down the middle, sending it into the parking lot 60 feet past the fence, bringing his team into the lead and effectively turning the tide for the remainder of the game.
Beginning to feel the pressure from Red's late lead, Hyde Park started making serious contact, hitting three balls and amassing three outs, one of them a line drive between second and third base caught in a diving catch by shortstop Hunter Cole to bring them to the bottom of the fourth.
It was at this point that the flood gates opened. Striking out Red Hook's first batter and walking three consecutive batters following that, Mat Hunziker ripped one into the outfield to score a double. At this point Hyde Park sent out its relief pitcher, Connor Harris, who proceeded to walk Garcia.
Up by three and with the bases loaded, Flood hit a double on his swing, followed in suit by Shawn Barry hitting a double to give Red Hook a seven-point lead. The inning ended on the next at-bat, when Declan O'Callaghan hit one into deep center field and was caught for the third out.
The fifth inning flew by, as Flood struck out three consecutive batters, one of whom, Ibongalo Patsis, hit a foul ball past the fences, evidencing Hyde Park's otherwise unseen potential at bat. They returned the favor, allowing only one run, by Cole, and playing tight defense, catching the other two balls to bring them into the sixth.
Flood finished in dramatic fashion, handily striking out the first two batters and taking out the third with a full count and a fast ball down the middle to end the game 8-0, a shut-out by Red Hook.
Red Hook Coach Mark Garcia is "confident" moving forward, telling The Observer, "We've been telling these kids since the tournament last year when they were 11 year olds, we believe in them. Going to the district semi [finals] and returning there as 11-12 year olds this year, we're very confident… these kids, you know, they have to believe in that, and we certainly believe in them. They're very capable and they showed that tonight."
With their solid wins against Rhinebeck and now Hyde Park, Red Hook will continue on to the district semi-final game against Fishkill at Father Carrol Field in Red Hook.
Facebook Comments