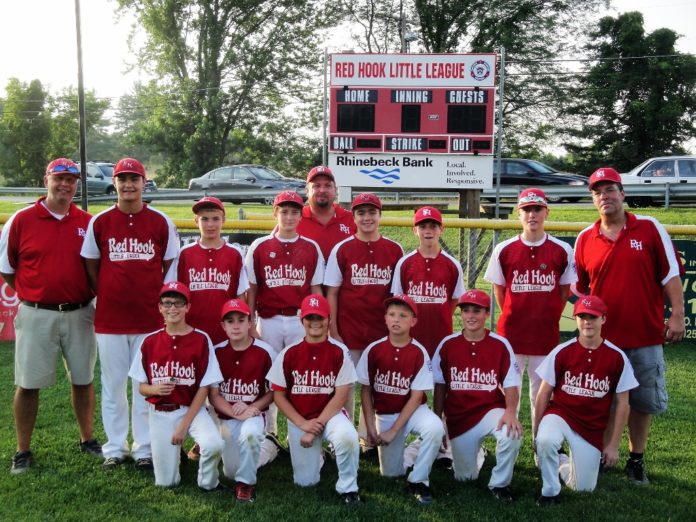 It's been a bittersweet post-season for Red Hook's Little League Majors baseball team.
Following a narrow, 9-8 loss to Fishkill at home, the team rallied back to the winners' bracket by beating LaGrange 5-1, and Fishkill 3-1, only to lose to Fishkill July 12 at the District Championship in a 10-0 defeat that was called in the fourth.
This was Red Hook's first-ever showing in the District Championship, held at Red Hook's Father Carrol Field. But because of the four-day rule that prohibits pitchers from pitching on consecutive days once they've reached their maximum pitch count, starting pitchers James Flood and Joe Garcia were unable to take the mound for the championship, forcing Red Hook to call upon reserve pitcher Sean Berry.
Fishkill move for an early and decisive lead in their first at-bat.
Anthony Quattrochi of Fishkill set the tone, slamming a lead-off home-run. That was followed by a two-run homer by Joe Clarkin and a three-run homer by Dylan Jones. The disheartening onslaught of runs forced Red Hook to bring in Declan O'Callaghan, who closed the inning on a grounder fielded at first.
After that, Red Hook struggled at bat: their lead-off hitter, Caspian Packard, struck-out, and Garcia and Hunter Cole hit grounders fielded at first base.
Red Hook seemed to regain its composure in the second inning but was unable to keep the ball under control, missing an Anthony Quattrochi grounder and letting Clarkin steal home on a dropped pitch that gave Fishkill an insurmountable 10-0 lead in the top of the second.
At-bat in the bottom of the second, Red Hook struck out twice and got their third on a pop-fly snatched in centerfield.
Pitching for Red Hook, Chris Yearwood then struck out Clarkin and allowed two hits, one, a hard line-drive by Todd Belotti that was stopped by shortstop Packard, and the other a grounder fielded at first. The inning was a far-cry from the ones preceding it, proving Red Hook's defensive ability.
Red, eager to take advantage of their final at-bats and aware of the imminent mercy call (10 runs after four innings), swung for the fences but was unable to make up for the massive lead they'd given up in the first. They only managed to get one runner on base in the third, earned their final out in the fourth on a strike-out, and were unable to work around Clarkin, who closed the game without giving up a single run.
Despite their difficulties in the Championship, Red Hook played phenomenal ball this season, climbing their way back into contention for the district title by beating Fishkill 3-1 the day before the championship game.
Coach Kevin Flood said their performance in the finals doesn't really reflect the team's capabilities.
He told The Observer, "They performed well, we wound up getting to seven games… and we ran out of pitching, and it is what is it. But we're all proud of the kids, they did a great job, they have no reason to hang their heads. And in this game, they went 10-nothing after two, and we didn't give up—and that says a lot."
He added, "In my mind, we had a successful run, and it just didn't end in our favor."
Facebook Comments