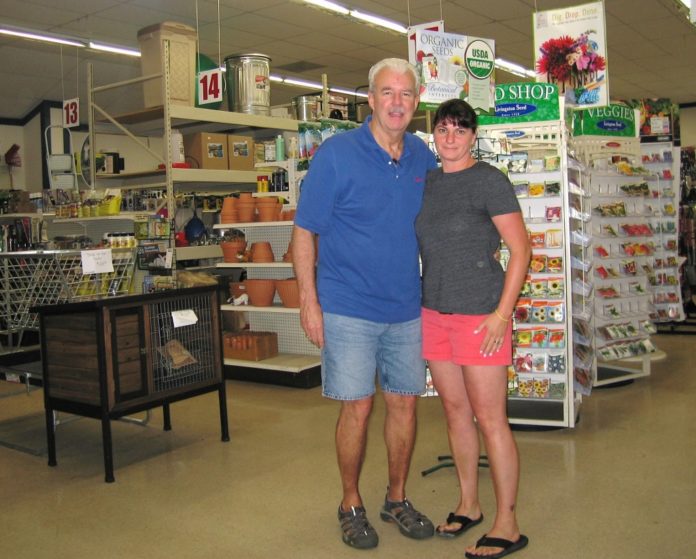 While any Red Hook resident can direct someone to the Agway on Firehouse Lane, they also know the store is better described by its other name:  Mac's Farm and Garden World.
"Mac" is Gary McDonald, owner of this Agway for 20 years and another in New Paltz since 2000.  Formerly a printer and kitchen designer, he is quiet-spoken with a dry sense of humor.  Asked how he chose to mark this admirable milestone for the store, he replied, "We had a Customer Recognition Day and an Anniversary Day.  We put a lot of stuff on sale."
There is a lot of stuff, Gary admitted. "When you think about it, all the big stores have the same product, but the difference here is the service and the personalities,"  he said. "That's our biggest asset."
He may be too modest.  Another asset is that the large variety of stock is easily found in the well-organized store.  Then there are items you would never find at a "big box":  a pink plastic snail watering can sits on a shelf above scores of multi-colored gardening gloves.  You may want to add those to your purchases after you've visited Mac's Garden World – the nursery — which (in season) features an ample selection of indoor and outdoor plants, plus an array of equipment and materials to create the perfect garden or improve an existing one.  "I'd say we do a pretty good job of having what you need as far as tools, plants, supplies," Gary said.
Agway has been "green" for a long time.  "We're very conscious of what is organic that can be used," Gary stated.  "Agway has been a leader in getting rid of the bad stuff and making things more organic and natural."  Customers benefit from 80 years of accumulated knowledge of the network parent company, Southern States, a cooperative founded by 123 farmers and now owned by more than 300,000 who pool resources and benefit from greater agricultural research capabilities.
Of the four categories — Bird, Home & Garden, Pet, and Rural — Gary described the current bird boom.  "We sell a few thousand chicks every year:  chickens, ducks, turkeys, guinea hens.  One of this spring's shipments of 400 only lasted two days.  I'd say 90 percent are purchased for the eggs,"  he said. Mac's also sells coops obviously designed to house happy hens.
Bookkeeper Debbie Dingee owns 10 chickens she bought here some years ago.  "We've always had a big interest in birds here.  It used to be just the cold months, now it's all year.  We feature the Feathered Friends Club – buy 500 pounds of birdfeed and get $10 off.  It's very popular,"  she said.
A visit to the website (www.newpaltzagway.com) or their daily updated Facebook page (www.facebook.com/pages/Macs-Farm-Garden-World) alerts customers to the "Salt Club" for water softener crystals (buy 8 bags, get one free), availability of propane and kerosene tanks, numerous coupons and sales, and a newsletter full of home and gardening tips.
Rachel Hangrac is the Store Designer but can step in as a sales associate and is often the cashier behind the counter.   "It's all teamwork around here," she said.
MAC'S FARM AND GARDEN WORLD  (AGWAY)
68 Firehouse Lane
Red Hook,  NY12571
Hours:  Mon. – Fri.:  8am-530pm;  Sat.:  8am-5pm;  Sun.:  9am-3pm.
845-876-1599              Fax:  758-8002
macsfarmgardenworld@yahoo.com               www.newpaltzagway.com
Facebook Comments