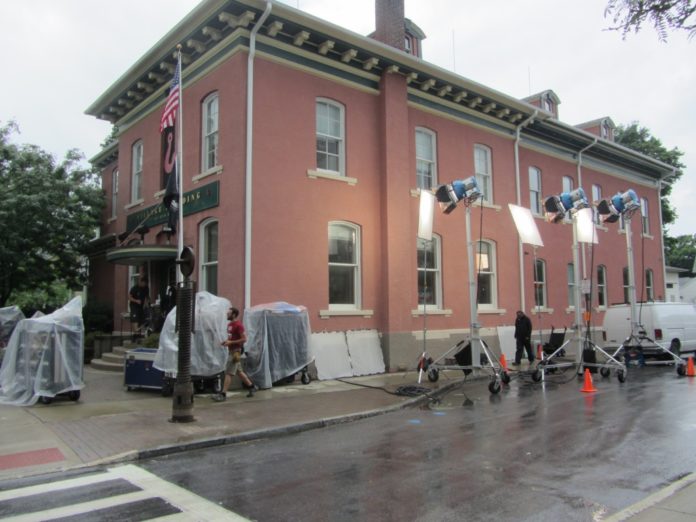 Once again, the Village of Red Hook served as the setting for a German film project.
A one-day shoot, which took place July 2, featured Village Hall in what could be a made-for-TV movie based on a popular British romance series.
Almost a year ago, the same crew spent six days using Taste Budd's Cafe and the section of Market Street right in front of the cafe to shoot a TV movie based on another novel in the series by British author Katie Fforde.
This time, the crew, from German Company Network Movie, wanted to film in Village Hall. Village officials agreed and charged the filmmakers $2,500 for the use of the building.
"They paid for the necessary police coverage, no questions asked," Village Clerk Cindi Cole told The Observer. "They're lovely people and very professional. Check's in your hand before you even ask."
According to the Hudson Valley Film Commission, a Woodstock-based non-profit that seeks to bring economic development to the region through film projects, this will be Network Movie's fifth year filming in the region. The company works with the Poughkeepsie-based company Van Wormer International to find suitable settings for their made-for-TV style films, which usually show in Sunday nights in Germany and are popular family entertainment.
"They've hired one of the best location scouts in the area, she knows the Hudson Valley like nobody's business," Laurent Rejto of HVFC told The Observer.
Rejto also said that the crew was working on four films simultaneously while in the Hudson Valley and could have used the footage from Red Hook in any of the four.
Rejto said that the films are a "huge hit" on German television, but that watching one can be a strange experience if you recognize the setting, since the actors speak German. The films are reportedly available in the U.S. on the Internet only.
"HVFC loves productions like this. They specifically spend a lot of money in our region because they have a lot of people on the crew who are not from the area. They are tourists as much as they are working," Rejto said.
Red Hook Village officials seemed pleased with the outcome.
"They obviously liked Red Hook enough to come back another year," Trustee Brent Kovalchik said during the Village Board meeting July 8.
Mayor Ed Blundell pointed out that the crew brought some business to the village on the day of the shoot and created a buzz even while shooting indoors since they set up huge lights on the outside of the building to make the rainy day appear sunny from inside.
"They brought a lot of action to the village that day," he said. "It can't hurt."
Facebook Comments