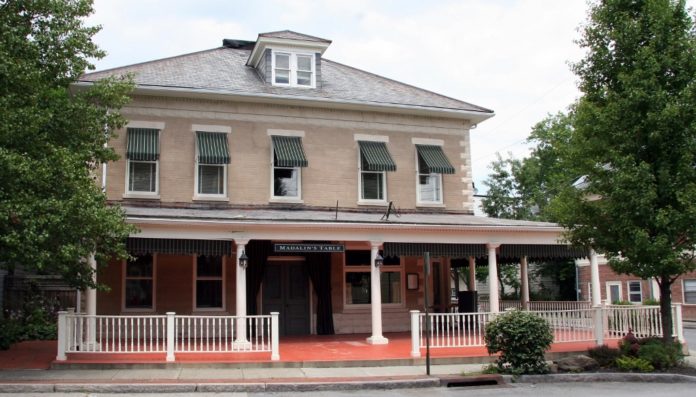 The Madalin Hotel, a prime property in the heart of Tivoli, has been purchased after barely six months on the market.
Brice Marden, an acclaimed artist whose paintings have been described as abstract and minimalist, bought the century-old restored boutique hotel. Marden, who has owned the 23-acre Rose Hill estate in Tivoli since 2002, was, by his own admission,a regular patron of the hotel's restaurant, Madalin's Table.
The property, at 53 Broadway, went on the market Dec. 7 for $1.9 million and was sold by owner Joseph Cicileo for $1.5 million on June 5. The restaurant and hotel closed for business at the end of last year, according to James Liu, who owns Osaka Japanese Restaurant in Tivoli.
Marden told The Observer that he and his wife, Helen, hope to reopen the hotel and restaurant in early autumn and that no major cosmetic changes to the property are planned. "We used to like eating there a lot. Since no one else looked like they were going to do it, we thought we should reopen it," he said.
Marden said that he and his wife are still working out the details of the future management arrangements. "We're talking with a number of people and certain chefs. Our daughter, Melia Marden, has a cookbook out called 'Modern Mediterranean' and the food will be somewhat similar to that. It will be very simple and, you know, good," he said.
Marden said that he has spent most of his time in the last two years at his Rose Hill estate working on various projects in his studio there. "Now I'll have a place I can eat all the time," he said, adding, "We hope people in Tivoli will be happy with what we come up with, too."
The 6,000 sq. ft. building that houses the Madalin Hotel and restaurant was built in 1909 and renovated and reopened in 2006. It contains two kitchens, 11 bedrooms, and 13 bathrooms and is located on the corner of Broadway and North Road. The hotel and restaurant were named after the village, which was called Madalin before it was consolidated with the hamlet near the Hudson River landing called Tivoli in 1872 to form what is known as the Village of Tivoli.
Correction: In the July 17 article on the new buyer of the Madalin Hotel in Tivoli, a bit of history was incorrect. The village of Madalin was consolidated with the hamlet near the Hudson River landing called Tivoli in 1872 to form what is known as the Village of Tivoli. Thanks to reader Dan Akst for that. And reader Maynard Ham also wrote in, to note "Madalin was a name still in use by older people as late as the 1950s. I remember my grandfather taking me to 'Madalin' for a haircut, as they had raised the price of haircuts in Red Hook to $1 and you could still get one in 'Madalin' for 85 cents."
Facebook Comments