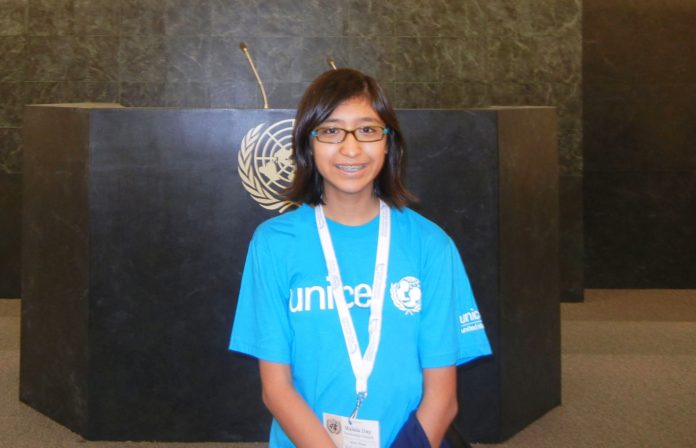 Rhinebeck teenager Mia Tsang helped make history last week.
Mia, who is 13 and an honor student at Bulkeley Middle School, now entering ninth grade, was invited to be a "youth advocate," one of 600 students from over 80 countries who stood on the floor of the UN Assembly July 12 with Malala Yousafzai, the Pakistani girl shot by the Taliban last year for being an outspoken advocate for girls' right to education.
The event was called "Malala Day," a special Youth Assembly highlighting the global challenges facing children who are deprived of educational opportunities.
Malala, who celebrated her 16th birthday by giving her first public speech since being shot in the head, talked about equity in education and told the UN audience, "So here I stand, one girl among many. I speak – not for myself, but for all girls and boys. I raise up my voice – not so that I can shout, but so that those without a voice can be heard," according to the UN News Service.
According to UN Secretary-General Ban Ki-moon, as many as 57 million children around the world lack primary school opportunities and up to 120 million between the ages of 15 and 24 may not have basic reading and writing skills that would allow them to enter the job market.
"I think that here in the U.S., we take education for granted a lot of the time," Mia told The Observer in explaining what Malala Day meant to her. "Kids complain about going to school, and they don't know that there are kids who would do anything to go to school but aren't allowed to because of their religion or their gender. For me, it's more about raising awareness in this country that this is a big issue and we need to reach out and help other people."
Mia became involved in human rights activism through fundraisers she has conducted each summer since she was 10. "It started when I was watching TV and my dad changed it to CNN and they were showing coverage of the BP oil spill. I remember seeing pictures of birds, covered in oil. To see these animals struggling was hard, it was a sad thing to watch," Mia recalled.
She had just begun learning how to fold origami, so she hatched a plan to sell folded paper birds as a fundraiser for the Audubon Society to help birds affected by the oil spill.
Last summer, she raised money to help drought victims in Somalia and decided to donate the money to UNICEF. Through that project, she became involved with Sunshine Comes First, a Rhinebeck-based non-profit that works on funding equity in education and has ties to UNICEF. SCF invited Tsang to attend the Malala Day assembly, and UNICEF contacts helped her get a spot as a youth advocate.
Mia said that Malala's speech was the most inspiring part of the day. "It was so impressive because she is just 16 and so articulate." she said. "She spoke of her shooting and how the Taliban tried to silence her but they failed and nothing changed in her life except this 'weakness, fear and hopelessness died. Strength, fervor and courage was born.'"
One thing Malala said that stood out for her, Mia added, was "she was focusing on women's rights and how [in the past] women social activists would ask men to stand up for their rights but this time she wants women to be independent and fight for themselves."
"I took so much from these past three days' events. I am grateful to have been invited and to have been a part of this amazing movement fueled by voices of youth," Mia said.
Because there were so many students attending the summit, Mia didn't get a chance to officially meet Malala.
But she said as Malala left the Assembly, Mia got swept along with the crowd and ended up right next to her. "I got to say happy birthday to her, and she said thank you!" Mia said.
Facebook Comments