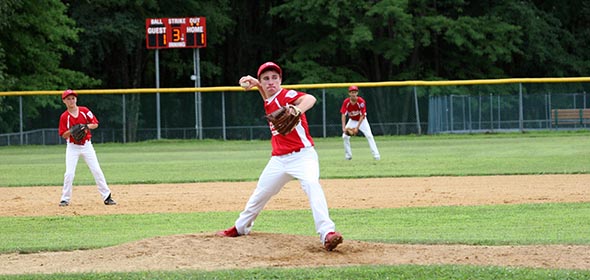 The combined Red Hook-Rhinebeck Junior All-Stars baseball team learned a hard lesson July 13 after a 4-3 loss to LaGrange: last-inning heroics are better in the bottom of the inning than the top.
The team barely made contact in the first two innings, going three up, three down. And a pick-off throw in the second got by first baseman Griffin Kopec, allowing a LaGrange runner to take home plate for the game's first run.
But they got things together in the third. Catcher Chris Turgeon drove in Red Hook/Rhinebeck's first run in the top of the inning on a double that dropped in the left field gap. Red got out of the inning with two runners left in scoring position. Pitcher James Mulvey escaped the inning with a runner at third.
There would be no more scoring until LaGrange brought in a runner in the bottom of the fifth inning to go up, 2-1, on Red. Leading off the top of the sixth, Red Hook/Rhinebeck's Nick Hunziker dropped a long single in left field and stole second. But he was the only player to get on base in the side.
LaGrange didn't make it on base in the bottom of the sixth, which was punctuated by a diving grab for the final out by Red Hook/Rhinebeck right fielder Austin Cole.
The situation didn't look bright for Red Hook/Rhinebeck coming out of the gates in the top of the seventh, which, if they did not score, would have been their final turn at-bat.
Both Cole and Joe Kihlmire were picked off at first base for the first two outs of the inning. But Red then rallied, after LaGrange pitcher Jon Iula sent Eric Decker to first after hitting him with a ball. Following Decker, Turgeon had his second hit of the day, a single that sent Decker to third. Then Mulvey popped a base hit to right, sending in both runners and putting Red up 3-2 before the inning ended.
Red went into the bottom of seventh with a full head of steam and a fresh arm on the mound: Chris Cassens replacing Mulvey for the final side. But Red then surrendered the tying run on an overthrow to third and Cassens gave up a double to deep left that sent the winning LaGrange run to home plate.
Head coach Russell Frehling was disappointed by the loss. "It's tough. They need to take two from us, but we only need to take one from them. Now we're even," he said. "Today our bats were cold and we just didn't put it together, that's all."
Stop the Presses!
As The Observer was headed to print, the Red Hook/Rhinebeck Junior All-Stars defeated Lagrange, 4-2, to win the District 17 Championship and will advance to the sectional playoffs to be held in Harrison, N.Y.
Facebook Comments