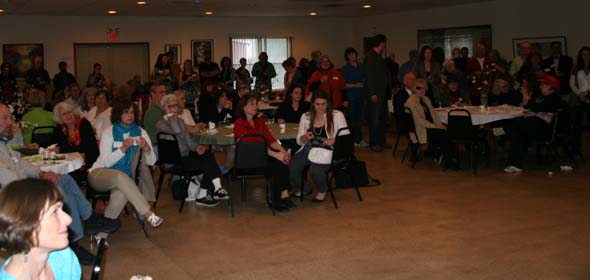 A standing-room-only crowd of nearly 200 people enjoyed good music, tasty food and the work of numerous artists at the kickoff of the Red Hook Community Arts Network on Friday night. Speakers included Ed Pruitt, president of the Chamber, Ben Krevolin, president of the Dutchess County Art Council, Liza Donnally, cartoonist, author and Red Hook resident and Juliet Harrison, an artist working in photography and one of the founders of the Red Hook CAN.
The Red Hook Community Arts Network is a newly formed group, based with the Red Hook Area Chamber of Commerce, to help promote Red Hook as an arts destination for tourists, artists and for businesses. Our members include visual artists, performance artists, writers, musicians, business owners, landlords, village/town officials and the local educational and arts related institutions. We hope to participate in all local events, create our own events, build community support amongst the creative members of our community, promote Red Hook as an arts destination and provide lists of potential new businesses for the landlords and real estate brokers to encourage to come into our community.
Mission Statement: The Red Hook Community Arts Network is dedicated to creating an environment that engages creativity, art and culture as a catalyst for community transformation, sustainability, prosperity and livability.
Facebook Comments