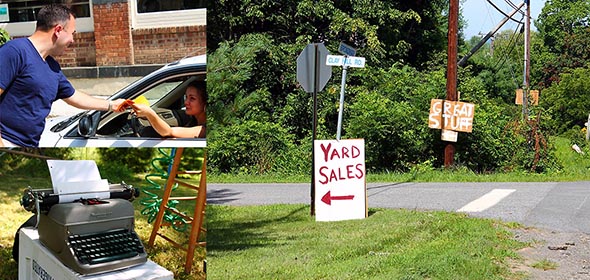 Tivoli put on its best festive face July 27 as residents and local businesses faced droves of bargain-hunters celebrating the village's 25th annual Yard Sale Day.
More than 30 homes and tents were hosting sales. And by noon, more than 300 cars bearing visitors had passed through the main intersection.
Greeting them was Mayor Bryan Cranna. "The turn-out this year has been very high. People are coming from all over. I greeted several families that were traveling across the country who decided to stop in and visit when they saw the signs. It's a great day for local business," Cranna said with a broad smile.
Some of the villagers' stands were simple, with items hung in the hedgerow or strewn about the yard with masking-tape price tags. Others had more elaborate sales with their whole driveway covered with tents that housed everything from comics and records to furniture and appliances. The outlying houses were also selling lemonades and cookies and other assorted wares to folks who decided to explore beyond the main street, using a flyer put out by the village to mark the many yard sale locations.
The Tivoli Fire Department held a fundraiser and also sold its highly popular hamburgers and hot dogs at a large barbeque at the main fire house.
Facebook Comments