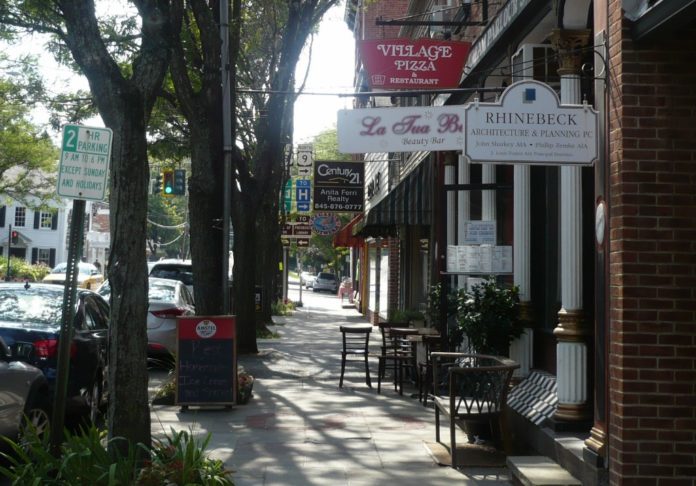 A walk through the heart of Rhinebeck on any given summer day presents a bustling, pleasant scene with businesses open and tourists and locals mingling. Beneath the surface, however, merchants and village officials claim there is a battle raging — over business signs.
Village officials say some of the sidewalk signs and at least one outdoor dining set-up are illegal and may be hazardous to pedestrian traffic. Some of the business owners say village rules are confusing, and may not be applied across-the-board.
Mayor Jim Reardon told The Observer that several businesses are breaking the law by placing illegal sandwich-board signs out on the sidewalk. "We have direct language in our code about blocking sidewalks. We're tired of people flagrantly violating the law and we're going to crack down on it," he said.
He also is concerned about unauthorized outside dining. According to Zoning Enforcement Officer Bob Fennell, restaurants like Liberty, Gigi's and Terrapin have outdoor seating as part of their approved site plan. But Reardon said he is concerned about others who are "placing tables and chairs out on the sidewalks," though he would not name any specific businesses.
"This creates a safety hazard, it's going to create a problem for the business owner, the property owner, and the village," he said, citing the potential for litigation if an accident happens.
In his eyes, there is no excuse for flouting the law. "People have been notified to remove the signs, but we find that we have repeat offenders," he said. "Anybody who owns a business in Rhinebeck goes through the planning board process, and a lot of that process involves signage."
The situation, which Reardon said has been building for some time, has caused him to direct the village's zoning enforcement officer, Bob Fennell, to crack down on those who ignore the law.
"We're at the point now where we're tired of it, and it's like a slap in the face. They're taking advantage of the system. We're no longer going to tolerate it," Reardon said. "From this point on, when we have repeat offenses, we're going to be citing them and then taking them to court."
Compliance with existing laws and safety are the key concerns, the mayor said.
"I'm sure there are people who are going to say that we're being anti-business. That's definitely not the case," Reardon said. "We're being pro-business, we want to preserve the character and integrity of the village. We want it to be a desirable place for people to come, and we want people to be safe. Everybody needs to live within the law."
Century 21 owner Charles (Chuck) Ferri said he has placed an open-house sign against a tree in front of his store at 15 E. Market St. on purpose to attract customers and to keep the sign out of the way of those on the sidewalk.
"If [officials] are worried about people suing the village, they ought to be worried about the sidewalks, which are in deplorable condition. The sandwich-board signs are right against the building or out by the road, behind a tree," he said.
Ferri also agrees that fairness is a big issue. He worries that some businesses are being unfairly targeted for infractions while other offenders are being ignored.
"We need to be fair and equitable to all businesses in the village. We all want to survive. If there are some people that are being contested and others who are not, that needs to be looked at," he said.
Ferri has his own history with village zoning. In 2011, the village took him to court for having a flat-screen TV running advertising in his store window. The village claimed that the TV violated the sign laws, which prohibit those that are lit from within, including neon. Eventually the village dropped the case because, according to Fennell, it was costing too much money. The TV is still there, running ads from 9am to 9pm.
One complication for officials and business owners is that signs predating zoning revisions are grandfathered in, so a one-size-fits-all approach won't work. For example, the grandfather clause allows the new store Evoke Style, owned by Sandra Dollard, to have a sign mounted high on a painted sign post in front of her shop at 6406 Montgomery St.
Dollard told The Observer she can have the sign as long as the pole stands, but if the pole comes down, it won't be put back up again and she'll have to design something to fit with the current code.
She had no complaints about the planning process, which she recently went through in order to open her shop June 15.
"I like the fact that you're submitting [your plans]. Each building here is so individual, I don't think that there would be a way to do a general format. [That individuality] gives the business owner license to do some of the things you want. I did it in Albany, and Albany was a lot tougher. You take a photo of what you want to do, and the process is pretty quick. I have no complaints," she said.
Mauro Sessarego, proprietor of Artigiani de Gelato at 41 E. Market St., felt differently. "It's good that the village regulates the signs. We don't want it blown out of proportion and everyone going crazy. I support the village," he said. "However, compliance is very difficult. There isn't much information in regard to what not to do. They almost say, 'Give us your idea and we'll look at it and tell you if it's okay.'"
Sessarego said he learned there were required dimensions for signs, as well as a limit on the number of signs, after he went through the planning process several months ago before opening his shop in April and submitted his sign ideas.
"Then I was told that one of my signs was 'borderline.' I'd like to comply, but I wasn't clear on the process. As soon as they said something about the extra sign that I had, I put it away," he said.
However, he added that he thought the extra sign would come in handy for describing the many products and food items in his store. "It's hard to advertise lunch with the limited signage available to me. Gelato is my primary business, but I can't survive with only gelato," he said.
According to ZEO Fennel, the basic rule is: businesses are allowed one square foot of signage for every two linear feet of ground-floor street frontage.
Barbara Schreiber, who has owned the Rhinebeck Department Store with her husband, Dick, since 1992, told The Observer that she thinks the rules are clear.
"[Figure out] what are the dimensions of your building and how much square footage you are allowed and use it accordingly. I think it's very fair, it's all about scale. There's a certain aesthetic that goes into the thought process on this," she said.
Aesthetics are at the forefront for Fennell as well. "The signs [in the village] are cacophonous. They're screaming at the populace. No one can see the forest for the trees," he said.
Fennell said that the usual process is that business owners work with the planning board to achieve an approved site plan, including signage. Size and aesthetic issues are addressed during the approval process. "That's part of the planning board's charge," Fennell said. "They can decide how things should look."
Fennel said he only gets involved in the process when the code isn't followed. He estimated that this year he has sent out about 15 letters on sign and sidewalk violations so far.
His process involves writing a letter, an "order to remedy," notifying the recipient of the infraction, citing the pertinent section of the zoning code and asking for compliance on or before a certain date.
Fennell said he usually sends at least two orders of remedy, often more than that, before issuing an appearance ticket for court, which he said was a rarity.
"Usually what happens is they take [the signs] down for a month or two. Then put them back," he said, adding, "The mayor and board have decided that we're going to stop this merry go-round. We want to get off now."
There seems to be no required number of warnings for offenders. Once the warnings have been written, the village has few options other than taking the business owner to court. "You have to go to court. I can't just go down and write them a ticket, the way a policeman would," Fennell said.
Al Mazzella, owner of Village Pizza, has been in business in Rhinebeck for 19 years. He started his business at 51 E. Market St, where Arielle's is now, and moved 10 years ago into his current location, which used to be Schemmy's.
At his previous location, he said, he had a sandwich-board sign and two tables and two chairs outside and no one ever said anything.
But in the last several months, according to Mazzella, the ZEO began sending letters citing him for his sandwich-board sign and the two tables and four chairs he has on the sidewalk just under his front window.
Mazzella said he feels such an approach is disrespectful. "I'm a plus for this village and town. I do a lot of donating to the schools and institutions around here. My little A-frame sign is not blocking any sidewalk. My little tables are against the building, I'm not blocking the sidewalk," he said.
He described the tables as "bistro tables," 18 inches by 18 inches, and said that he abides by the codes required for running his business and has never had a problem in the past. "I don't like to break rules and regulations. When I took this place over, I gutted the whole store out… I went over and talked to the village building inspector and did whatever he wanted me to do," Mazzella said.
He said he makes sure the sidewalk in front of his restaurant is clean of any litter each morning. "Does anyone notice? No. But it's okay, it makes me feel better," he said, adding that he has never been invited to modify his site plan to include the tables and chairs.
"I wish they would find something else to crack down on. Those sandwich boards do a lot for merchants in the village … they're not obstructing the sidewalk," he said. "That little sign probably brings me in $50-$75 a day because I advertise homemade ice cream."
Mazzella noted that other businesses put clothing on racks and other items on tables on the sidewalks and he wondered if they were also getting letters.
Both Reardon and Fennell said there was a code provision that allows for a "sidewalk sale," intended for retailers who want to place goods out on narrow tables no wider than 36 inches.
Fennell also said that any business owner who receives a notice to remedy can apply for a variance with the planning and zoning clerk at any time. Or, they can request a hearing before the Zoning Board of Appeals for an interpretation of their case if they think the ZEO is wrong.
Fennell said he can see the business owners' point, but to him the issues of fairness, aesthetics, and safety are intertwined.
"I understand, from a business standpoint, if you think your business is failing, you might put a sign out in front to attract customers. That seems to make sense. But in the aggregate, it is detrimental to the village because once one person puts one out, everyone else says, 'Why didn't you go after him?'," he said.
As if to prove his point, as he talked to The Observer, he got a call from a business owner who received a letter complaining about another merchant's signs.
"I know, I'm going to go after them, it's ridiculous," Fennell told the caller. "No, I'm not discriminating!"
Editor's Note: This story has been updated because the original story incorrectly reported that the village had lost a 2011 court fight over a flat-screen TV in the Century 21 office window. In fact, the village withdrew the case.
Facebook Comments