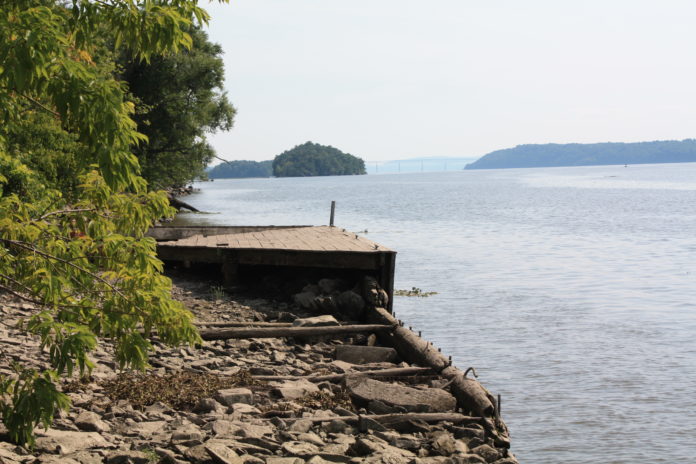 The showdown between Tivoli and Jerome Hollick, the proprietor of Tivoli Sailing Company, is scheduled to soon move into a courtroom.
Hollick has been served with an appearance ticket for Aug. 19 in Village of Tivoli Justice Court.  The letter, from Tivoli's zoning enforcement officer, alleges that "the defendant did construct a dock without a valid building permit from the Village of Tivoli."
Hollick built the small wooden riverfront dock just south of the Friendship Street railroad crossing in 2007 after tying up his boats in that location since 2000. In the past Hollick has decribed the  dock as a pick-up stop for local passengers that accounts for at least half of his charter service.
In 2010, however, the village signed a purchase agreement with CSX Railroad for the property. And in 2012, village officials began to question the legality of the dock, which is now on village property but has never been subject to the usual zoning procedures, including site plan review.
Steve Cole, Tivoli ZEO, said that, although the dock was built before the railroad purchase agreement, the village is charging Hollick with a code violation because of work done since then.
"He has continued to maintain the dock.  He's put new decking on it, he's done reinforcement on it.  So what we're actually citing him with is the renovation of the dock without a building permit," Cole said.
In the past year, Hollick has said he believes he could be granted a "prescriptive easement" on the property if the case goes to court.  New York State law states that, under certain conditions, long-term and uninterrupted use can confer an individual with the right to continued access.
Facebook Comments